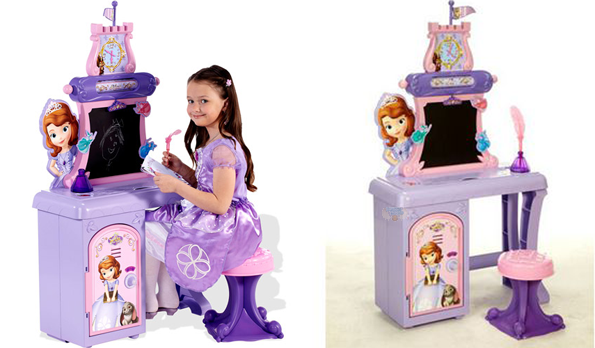 If you or a friend has a child that would love to have a charming piece of furniture, then this deal just might pique your interest. WalMart is currently having a sale on their Sofia the First Royal Preparatory School Desk, which normally costs $79.97 - you can now purchase this adorable set for $50. Plus, you'll also getfree shipping! Whoo!
This Sofia the First Royal Preparatory School Desk is a great little desk! It comes with a storage locker (complete with combination lock), a matching stool, a chalk board (plus 2 pieces of chalk), an adjustable clock, a quill pen topper and bottle, and even a clip so your child can display their royal school work.
When I was a young, afro-haired child, I did have an actual school desk that I used to draw my pictures on, but I didn't have a cute playset like this Sofia the First Royal Preparatory School Desk. I distinctly remember going over to see one of my friends at their house and being entertained by a miniature kitchen playset, though. For some reason, one of my favourite things to eat at the time was Filet O' Fish sandwiches from Mcdonald's. When I asked my friend to make me one of those (in our pretend kitchen), she just wrote down "Filet O' Fish" on a piece of paper and put it in the "microwave". It still makes me chuckle to myself to this day.
All in all, these Sofia the First Royal Preparatory School Desks are cute, fun, and they allow kids to explore their creative side, which can be tough when so many children are enamoured with electronic devices nowadays.
If you were to purchase this Sofia the First Royal Preparatory School Desk at Sears, it's currently on sale for $55.99 (plus shipping), while this deal at WalMart is cheaper AND you don't have to pay for shipping! I've included a snippet of a review of this playset from a satisfied Amazon customer below:
The colours and size are perfect for the three year old owner, who clearly loves it. From the perspective of adult who purchased this toy, I feel it could be better constructed with stronger materials.
Get this deal while it's still available! Happy hunting, Bargainmoosers!
(Expiry: Unknown)