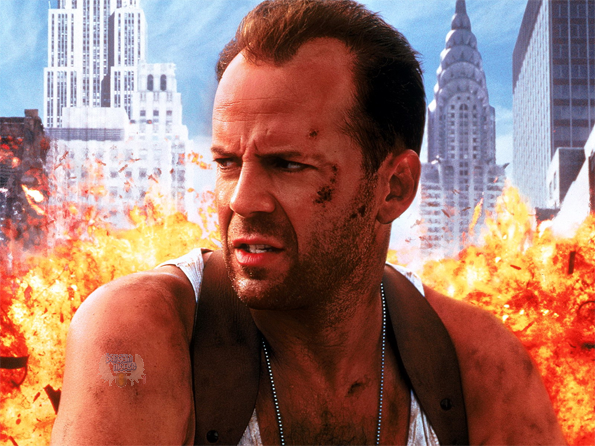 Yippee-ki yay! You can't help but root for John McClane, the hard-nosed and sharp-tongued NYC detective that originally found himself in a situation where he had to save a bunch of hostages when he only planned to visit a Christmas party with his ex-wife. Them's the breaks, eh John? WalMart is currently having a sweet sale on the Die Hard 25th Anniversary Collection on Blu-Ray, where you'll get 4 Die Hard movies: Die Hard, Die Hard 2, Die Hard With A Vengeance, and Live Free Or Die Hard. Normally $69.99, you can now purchase this set for only $19.87 and you'll also get free shipping. This is one great deal for a Blu-Ray set!
I've always had an affinity for the Die Hard movies. They're fun action flicks, they have some comedy due to the quick-witted John McClaine character, and they're always entertaining. If you need something to watch one weekend, you should really consider picking up these movies. I actually used to own a Die Hard arcade machine (it was a pretty decent game, but I got it more for the novelty than for the actual game play), so it's safe to say that I was a huge Die Hard fan when I was younger.
Although this set doesn't include A Good Day To Die Hard, the latest 2013 instalment in the Die Hard series, this is still one heck of a deal.
If you went to Best Buy in America to buy this Die Hard 25th Anniversary Collection On Blu-Ray, it would cost you $44.99 US. I've included an entertaining review of this box set from a satisfied Amazon customer below:
I mean honestly, who doesn't like the Die Hard series!? Even ladies like it, so why bother asking yourself "should I buy it," and just buy it, it'll be used for sure, and it never goes out of interest. Plus, the sound of it all is outstanding, the explosions and gun shots and yelling is all crystal clear and gives such an immense feeling of joy. It was a no brainer in the end.
This may not last for very long (quantities are limited), so check out this deal now. Happy hunting, Bargainmoosers!
(Expiry: Unknown)