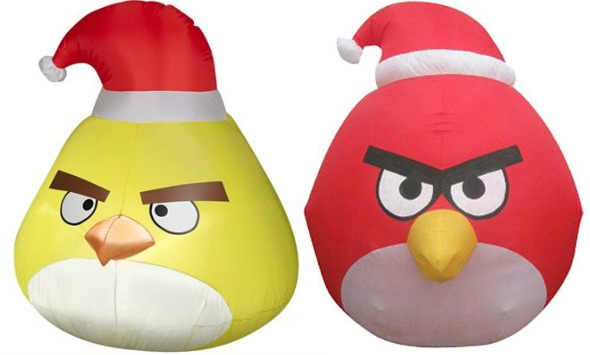 You're going to hate me for this, but Christmas is coming up fast. If you have yet to buy a tree or decorations, then you may want to get on with that soon so you can enjoy the best deals. In fact, Walmart Canada has a pretty vast Christmas Clearance section already, and items are priced as low as $2.50. Spend $50 to get free shipping or enjoy the other free shipping options from Walmart.ca.
So Walmart.ca has everything from Christmas Cards to Christmas trees on clearance sale, and I have to admit I am a bit excited. Prices vary from $2.50 up to hundreds of dollars, depending on what you need to complete Christmas this year.
Christmas cards? No problem! You will want to get them sent in the mail around the end of November to ensure they arrive to their destination on time. All the more reason to purchase some cards right now. Walmart Canada has two different sets of 40 Boxed Christmas Cards on clearance from $10 down to $2.50.
Do you like Angry Birds? You have to check out this Airblown-Outdoor Yellow Bird with Santa Hat which is on clearance from $29 down to an incredible price of $7.25. I had to add this guy to my shopping cart. He will definitely add a unique touch to my front lawn during the Holiday season. Don't you agree? I think the kids will love him too!
Yep. Sometimes you just need to get a new Christmas tree because your dog chewed last year's. Not mentioning any names, but my household will appreciate the Christmas Trees on clearance sale at Walmart.ca right now. Here is a quick look at the options available:
There are a few different neat items on clearance sale, and their Christmas Clearance section will probably expand over the next few weeks as well while we prepare for Christmas which comes shortly after Halloween. If you shop smart you can snag great discounts on Christmas items by shopping at the right time - which appears to be now if you need a Christmas tree.
When it comes to shipping costs, you can spend $50 to get free shipping right to your door or you can enjoy one of the other two free shipping options. You can have any purchase big or small shipped to your local Canada Post Office for totally free, or if your closest Walmart location has the Grab & Go lockers then you can always opt for that shipping method for free as well.
(Expiry: Unknown)