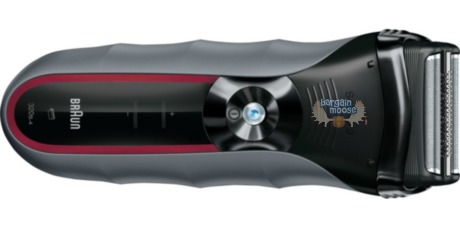 If Dad needs a new shaver, you are in luck with this hot deal from Walmart. Get the Braun Series 3 shaver for only $74.96 and free shipping.
With a husband who regularly shaves his head and trims his beard, a good-quality shaver is a fantastic Father's Day gift.  The Series 3 has a good motor speed and what is known as the Triple Action FreeFloat system. I'm not exactly sure what this means, but I find it pretty cool that you can use this dry or wet with shaving cream or gel. If you want a really close shave, using it wet is a huge perk because I think you can really cut right down this way.
Price Comparison
While I didn't supply you with a regular price, this price may be Walmart's regular, but I wanted to tell you about it because it is much cheaper than other stores, even the ones putting it on sale. For example, Well.ca actually has 30% off Braun products this week, including on this shaver, where it is regularly priced at $139.99, and on sale for $104.99 and now sold out. I actually feel sorry for those people who don't follow Bargainmoose and think they got a great deal before it sold out.Amazon, the king of low prices, also sells this shaver, with a regular price of $119.99 and it is on sale for $104.55. Searching around, these were the cheapest I could find it besides Walmart, which means some stores sell it for even more, even over $200!
I noticed that it is sold out in most stores near me, so I am going to assume that it will sell out on Walmart online fairly quickly, even though this is the regular price, so I wouldn't wait if this is an item you need to get.
(Expiry: Unknown)