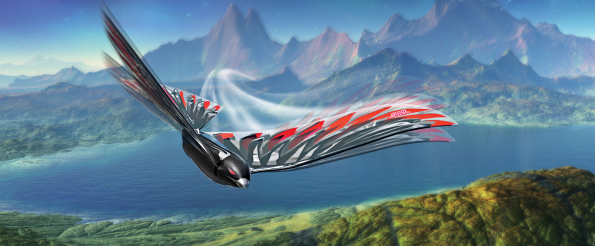 Wow! I have always wanted something like this personally, and I know I will enjoy watching my son play with it. Walmart Canada has the Air Hogs RC FireWing Flying Bird on clearance sale from $49.97 down to just $24. This remote control bird is available in two colours, yellow an red. You can either get this item shipped to a Canada Post Office or Walmart Grab & Go Locker for free, or you can spend $50 to get free shipping.
If you have boys in your household, chances are they have requested something remote control on their Christmas list. Why not try out this Air Hogs RC FireWing Flying Bird? Could you imagine the fun they could have with a remote control bird like this?! You can start feeling sorry for the family cat and the next door neighbour for sure.
Seriously though, why didn't they have toys like this when I was a kid? The best remote control toy I had was some robotic golden retriever that was supposed to follow commands. He never did. I probably annoyed the crap out of my parents by repeating his commands six hundred times trying to get him to listen. Now, my real life dog listens much the same.
Either way, your child can get this FireWing Remote Control Flying Bird to soar through the air with a high performance RC set up. It has powerful wings that flap and emulate the flight of a real bird. You can use the control to steer the bird. The control has a 100-foot range, so don't let your new gadget get too far away from you. The body is made of foam and carbon fiber, which means it is light and should be able to fly really well. It is also crash resistant (whatever that means). Sounds like fun, doesn't it?
Walmart.ca has a few shipping options. Spend $50 to get free shipping right to your door, or you can opt for one of the two free shipping options. The free shipping options include having your purchase shipped to  your closest Canada Post Office or Walmart Grab & Go Locker if your local Walmart participates in that aspect.
Moosers, do you wish you had this toy as a kid?
(Expiry: Unknown)