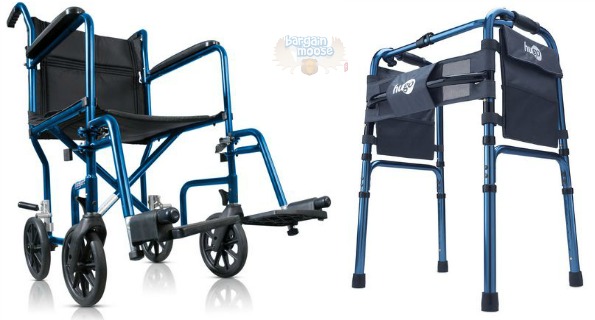 Walmart Canada has discounted the Hugo Folding Walker from $113.47 down to $28. The Hugo TranSport Chair is also on sale from $199.97 down to $50. Both of these items come withfree shipping to your home.
Both of these are very heavily discounted - so much so that I am surprised they are still in stock. The walker is lightweight (6 lb) and folds up flat for storage so it is never in the way. Push a button on the unit to make the walker fold. The walker includes side storage bags and a pack of 5" walker wheels for easier gliding. The adjustable height makes the walker more versatile. The Hugo Walker can handle up to 300lbs of weight.
If you have an elderly parent or grandparent - this can be very useful. My mother always kept a walker out at our place for my grandmother. When she came to stay, she didn't need to pack her big walker into the car. Rather, she could use the one we had at the house for her.
Wheelchairs are really expensive, so if you need one buy this Hugo! The Hugo TranSport Chair is also quite light - weighing in at only 16 lbs. Like the walker, the wheelchair folds up so you can transport it and store it easily. The padded upholstery provides some comfort and there are built-in compartments for putting a few valuables - or a snack bar. Seat belt, rear brakes, and removable footrests are included. There is a maximum weight capacity of 250 lbs. Both the walker and the wheel chair assemble without tools.
I may be young but there are times in my life I wish I had a walker or a wheelchair. That time I tore a ligament in my foot and could not walk for two weeks - that would have been a nice time to have a walker. That time my friend and I collided while skating (I fell on top of him because he stopped suddenly) and he broke his ankle - that would have been a nice time to have a walker, or better yet a wheelchair. Honestly, crutches suck.
I am not sure how long these items will stay in stock, as they are 75% off and quite valuable for anyone who is elderly, has health conditions, or is accident-prone. Pick one up while you can.
(Expiry: unknown)