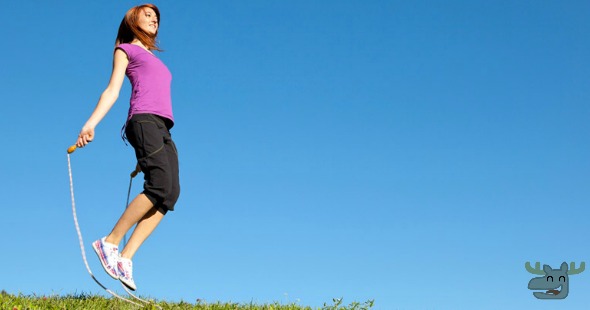 As it gets colder outside, we will have less and less motivation to get outside and keep fit. That is why this Fun and Fitness Jump Rope and Instructional DVD set is a perfect fitness idea for any of us, especially moms. This Fun & Fitness Jump Rope set was originally $19.96, but at 50% off I don't want to see you hesitating to spend $10 on this fab fitness idea. Take a look at your different shipping options from Walmart.ca as well.
Nap time, quiet time, whenever your kid is watching a movie or sitting still. Do you know what those times are? The perfect opportunity to pick up your Fun and Fitness Jump Rope and Instructional DVD Set and skip to fitness. This Jump Rope Fitness Set is 50% off, which makes it affordable for just about everyone at just $10.
As you watch the DVD that comes with this set, you will be instructed by the 5 time World Champion jump rope expert. This fitness program is great for all ages, and may even make a perfect stocking stuffer. This set includes the 8 foot (adjustable) Fun & Fitness Jump Rope as well as a 35 minute long enthusiastic instruction DVD. There are even different levels, so it won't get boring for you. Set your level at basic, intermediate, advanced, partner routines, group work and even double dutch. While I think this set is aimed more at pre-teens and teenagers to stay fit, I have added it to my Walmart.ca shopping cart for myself. I have been looking for a way to stay fit that wouldn't require me to find a babysitter or leave my home. This is the perfect solution.
When shopping online we always have to consider one thing. How is this item going to get to me, and how much will it cost. With Walmart.ca it is pretty simple. This item is only $10, so it doesn't qualify for free shipping. You can either check out the other Walmart clearance items and spend $50 to get free shipping, or you can choose one of their other shipping options. You can have your purchase sent to your closest Canada Post Office for totally free. Some Walmart locations have even started with their Grab & Go lockers, so you can choose that for free too if you have a Walmart close by that offers that.
(Expiry: Unknown)