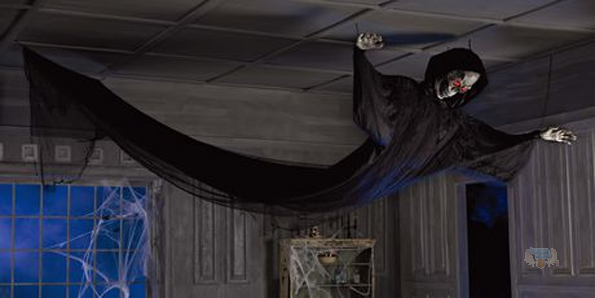 Halloween is just around the corner, Bargainmoosers! Although we're 2 days away, you can start getting some sweet decorations ready for next year (unless you upgrade your shipping option on the WalMart website so you can get this item in time for Friday). For example, WalMart's currently having a great deal on their 17-FT Hanging Reaper With LED Eyes & Sound - normally $98, you can now purchase this spooky decoration for $49. That's 50% off the regular price! You'll also get free shipping with your order. Nice!
This 17-FT Hanging Reaper With LED Eyes & Sound is the perfect decoration for your Halloween gathering. It looks creepy, it talks, and it has spooky LED eyes - the perfect item for this frightful candy-filled occasion!
The father of one of my best friends always went all-out every Halloween. Even to this day, he continually has plenty of awesome Halloween props and animated "creatures" that he has in front of his home for those that dare to try and get some candy! He even dresses up for the occasion, stoically handing out candy while he's in costume, and it always cracks me up. Everyone has a favourite occasion to celebrate, and it's obvious that his is Halloween! I would totally expect to see this 17-FT Hanging Reaper With LED Eyes & Sound in front of his house this year!
If you want to purchase a 17-FT Hanging Reaper With LED Eyes & Sound from Amazon's American website, it will cost you $189.99 US! This is one great deal at WalMart, so check out this deal before it's too late! I've included a brief review of this 17 foot reaper from a satisfied WalMart customer below:
We bought this at Walmart to hang in our entry way to scare our guest as we open the door.. he is massive and I'm positive he will do the trick. He was 100 dollars and I think he was well worth the money.
This may not be in stock for very long, so get this while you still can! Happy hunting, Bargainmoosers!
(Expiry: Unknown)