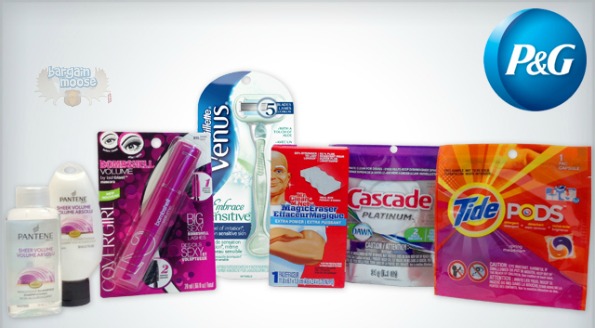 WagJag has brought back a very popular deal that they have had in the past that sold out very fast.  They are offering a P&G sampler pack for just $6 total with no additional charges.
Since the value of this deal is worth $46, you will be saving 87% by paying just $6 and getting it through WagJag. Basically, they are charging you the cost of shipping, which is $6 and giving you the entire sampler pack for free.
Here is what you will get with this deal:
1 New Tide pods free & gentle
1 Mr Clean Magic Eraser
1 Cascade Platinum (2-pack)
1 Venus Embrace Sensitive Razor with one blade
1 Pantene Shampoo and 1 Conditioner (sample size)
1 CoverGirl mascara: either the Clump Crusher Mascara, Flamed out Mascara, LashBlast Volume Mascara or Bombshell Volume
2 educational booklets
P&G does offer similar sampler packs for free occasionally but they are a little different.  The first difference is what you get with them.  I have never seen them offer a full size name brand makeup item like the Cover Girl mascara.  This mascara alone is worth much more than the deal. Secondly, the samplers are usually gone within hours of being advertised if not sooner.
I love getting sampler packs like this because it allows me to try out new products (or new to me products) for next to nothing. This is the number one reason companies such as P&G put out deals like this actually.  Whatever the reason they are giving us such a great deal, I will be taking it!
This deal is a little different from other WagJag Canada deals because it does not have an actual expiry date listed. Instead, they have a limited quantity that will be offered and once those run out, the deal will be over.
You will be able to order one sampler pack per household and it will arrive 2-6 weeks after ordering, which isn't bad at all. Because there is a limited number of packs, you will not be able to order any as gifts because these will most likely sell out pretty fast. Its best to grab your deal sooner rather than later.
(Expiry: Unknown)