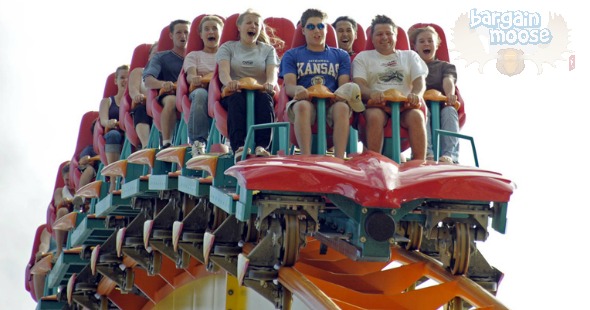 I didn't get to go to Canada's Wonderland at all last year, but I plan to this year - especially with this discount. Right now WagJag Canada has Canada's Wonderland tickets on sale for up to 45% off the regular cost. Not only that, but we have an exclusive coupon code to get an additional 10% off that already low price. You will also get a bonus $10 WagJag promo code to use on a future purchase.
Click here to get your Canada's Wonderland tickets now @ WagJag.com
Coupon code: WONDERLANDMOOSE
Discount: extra 10% off Canada's Wonderland tickets
Expiry: 12th June 2015
WagJag Canada is selling their Canada's Wonderland tickets in pairs. Which is fine, because it is not often that you would venture to an amusement park alone. There are over 200 attractions at Canada's Wonderland, and most of the time people are fine paying the regular price for admission. You don't have to though. WagJag Canada has the following offers on admission to Canada's Wonderland
2 Tickets - were $140 | now $81.34 (taxes included)
4 tickets - were $280 | now $153.63 (taxes included)
After you apply our exclusive coupon code at the check out process, the prices will look even better. How can you resist this discount on tickets to a family fun place? After the exclusive 10% coupon code is applied, here is what these tickets will cost you:
2 tickets after coupon code - $73.21
4 tickets after coupon code - $138.27
Since Canada's Wonderland tickets would cost you about $70 each after taxes have been applied, this is basically getting two tickets for the cost of one. Don't forget that you will even receive a $10 WagJag promo code on Monday June 15th. This promo code will expire on August 31st, so you have the summer to decide what you would like to purchase. I don't see any fine print regarding a minimum purchase total to apply your $10 credit, so maybe you will even be able to get a freebie out of it.
Your admission tickets will be valid through October 31st, 2015. I snagged 4 tickets so that we could celebrate Father's Day at Canada's Wonderland. You won't get physical tickets, but rather a voucher you have to print and present to be admitted into the park. Taxes are included, there are no additional charges. There also seems to be a few new attractions this year - like the Typhoon and some water park additions.
You can get future WagJag.com coupon codes from our Bargainmoose forum.
Moosers, what are your favourite attractions at Canada's Wonderland?