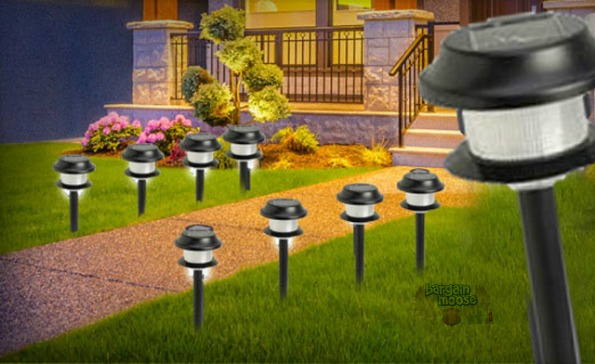 A back and front yard must at our house are solar lights.  I love the look of them lit up at light and they are basically no maintenance after you buy them because the charge all day in the sun.  They can get quite pricey though so you need to look for a good deal.  I found a spectacular deal at WagJag Canada  for a pack of solar LED lights.  Get a pack of six for just $30 when the regular cost is $79.
If you are unfamiliar with the brand name Hampton Bay, they are one of the best brands for indoor or outdoor lighting.  Because they are so good, they can be a bit expensive.  This brand  can be found in Home Depot (which is where we actually got our Hampton Bay LED solar lights) and a few other stores.
With this deal, you will get the six pack of LED solar lights in black and they have the stakes included to attach to the ground.  Each LED stake light measures 5.13 x 19 in and they light up at dusk so can last for up to 8 hours.  They are a great addition to any garden or walkway.
The cost of shipping is $12 extra but that is a fraction of the cost you will be saving at 62% off the regular price. The delivery will take approximately 4-6 weeks.
I wanted to show you a little price comparison for this deal.  I found the Hampton Bay solar lights at Home Depot Canada in a 10 pack that are almost identical.  They are priced at $79.98. Even though you get a few more, you would still be getting a far better deal with the Wagjag pack of six.  You would also get charged shipping at Home Depot.
I also found a similar set at Canadian Tire that are a no name brand and come in a pack of four.  They are $59.99 and again, you would be paying extra for shipping.  Those ones are double the cost of the Wagjag ones and they are not even a great brand or have as many in the box!
I finally found similar ones again at Walmart Canada that only had four in a pack and they were priced at $69.98. Even though Walmart offers free shipping on theirs, the WagJag deal still surpasses this one as well.
(Expiry: 29th July 2014)