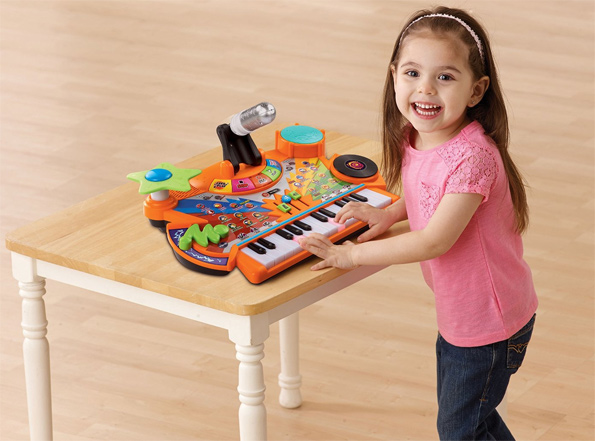 Anyone on the hunt for a Christmas gift for a kid between the ages of three and six? If so, here's a great idea for you - the VTech Record and Learn KidiStudio Play Toy. This toy is currently MORE than half price from Amazon.ca – down from $49.99 to only $24!!
If you have Amazon Prime, you can get free shipping on your order. Otherwise, just spend $25 or more to get their free super saver shipping instead.
The VTech Record and Learn KidiStudio is basically a kids' keyboard, with a lot more bells and whistles to complement the basic musical features. It's got a real microphone and voice changer which I am sure that kids would love!
The toy also has over 40 songs built-in – it doesn't state what these songs are, but I am sure it's old favourites like the wheels on the bus. There are even mini-vinyl wheels which the kids can spin, to perform DJ like effects such as slowing down the music!
The VTech Record and Learn KidiStudio only has a few reviews on the DOT CA, but there are actually a couple of hundred on the DOT COM for you to read. On the whole, it gets an overall rating of 4.5 out of 5 which is really excellent. The majority of people who bought this toy say that the kids really love it and that the keyboard is really great fun.
And what about the prices elsewhere? The toy is the same price at Walmart but it's OOS anyway – boo! Over at Best Buy, the toy is $37 and at Toys R us, the same toy is $53. As you can see, it's a superb price from Amazon.
(Expires: unknown)