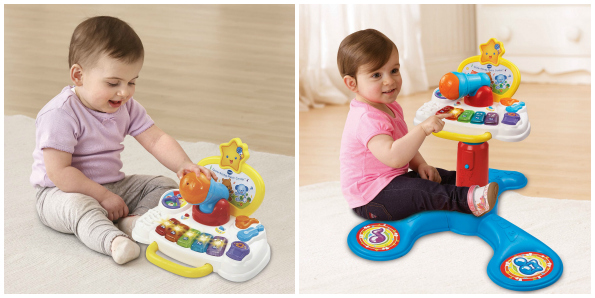 The Vtech 'Grow Along' Music Centre is in sale from $34.99 down to $26.24, in either French or English, at Sears Canada right now. Use coupon code941612464 for an extra $10 off your order, thus bringing the music centre down to $16.24. Even the pre-coupon price was well below any other retailer, so the price after coupon is amazing. I recommend getting your order shipped for free to one of over 1300 Sears Store and Sears Outlet locations across Canada.
This music stand has more than 75 songs, melodies, sounds, and phrases for your child to listen to and sing along with. They can play guitar, drum, and saxophone sounds just to name a few. The stand comes with a voice-changing microphone with four fun effects. When your child joins in, there are five light-up keys that will flash along with their voice.
This music centre is designed to grow with your child: the stand is adjustable for sitting or standing play. You can see in the image above that the music centre can sit directly on the floor as well.
There are two modes of play, learning mode and music mode. These modes increase the length of time your child will be able to use and enjoy this toy. According to the website, this toy teaches instruments, animals, colours, and imitative play.
I price compared with other online retailers to make sure you are getting the best price. I managed to find this toy at several other sellers, and here is what it costs:
$34.97 @ Walmart Canada
$34.97 @ Amazon Canada
$34.99 @ BestBuy Canada
$39.99 @ Toys R Us Canada
Overall, this is a cool toy at a great price. At Sears Canada, you are paying under half the price for this toy at any other website right now. Of course, something like this would make a great Christmas gift for your little one. Stick it under the Christmas tree for them to unwrap Christmas morning. For just over $16, you really cannot go wrong with a toy like this.
(Expiry: Unknown)