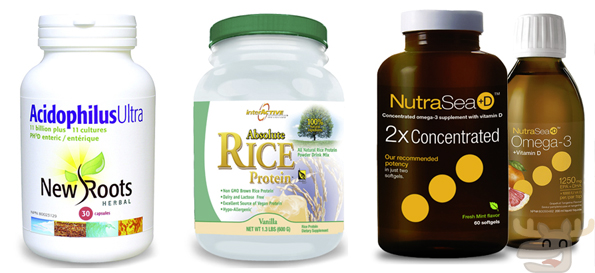 I recently discovered an online boutique called Vitapath.ca, something similar to those we already write about such as Well.ca and Healthsnap.ca. I've spotted that they are currently offering FREE SHIPPING on all orders, plus I also found a 20% coupon codeto go along with it!
Click here to shop online @ Vitapath.ca now
CouponCode: vita20
Discount: 20% off
Expires: Unknown
At the top of the Vitapath page, there is a banner about a free shipping offer, but when you click on it, the minimum spend is $50. However, when you add something to your cart and do a shipping quote, you will see that it appears to be free shipping on ALL orders with no minimum spend required. You can see that in this screenshot: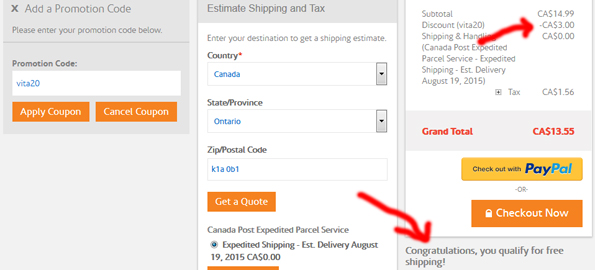 This is actually a saving of $5 and it's a very handy offer. It means that you can order any item on the site, no matter how small, and you won't pay a penny in shipping fees – I love it!
Sorry for those of you in remote locations though – the free shipping offer won't apply to you. This seem to be the way of it, with most online retailers.
Whenever I find a deal like this, the first place I hit up is the sale section. However, there doesn't appear to be a specific sale section on their site! So to best take advantage of this deal, I'd recommend that you price compare some items that you commonly buy.
For example, Organic Coconut Oil is all the rage at the moment but it's not cheap. You typically pay around $15 to $20 for a 450g jar of the stuff. But if you order this one from Vitapath, you'll be paying $11.99 with free shipping.
When compared to the likes of Well.ca (free shipping on $29) and Healthsnap.ca (free shipping on $50), then it's definitely worth checking out the prices on Vitapath to check for a good deal.
(Free shipping expires: 1st September 2015)