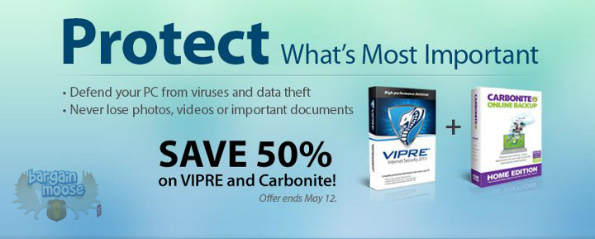 VIPRE and Carbonite are teaming up to bring you this awesome deal. When you buy VIPRE's Internet security software, you get a free copy of the awesome Carbonite Home backup service.
If you're gonna be online, you need to be protected. A lot of people think an Antivirus program is all you need. Some people think Antispyware will do it. And most people don't even back up or if they do, they don't do it properly. With this package, you get all your bases covered. The VIRPE Internet Security package includes your firewall, email protection, antivirus, antimalware and a bunch of other great features.
Carbonite is awesome too. You install a little program on your computer and it slowly does a backup of everything on your hard drive and puts it on their server. I know a lot of us in Canada have bandwidth caps, so Carbonite lets you set usage limits so that you don't go over the cap. It also knows to do the backups when you aren't using the computer. If it sees a bunch of traffic on the network, it'll stop backing up. Once everything is backed up, it keeps it up to date. You can even access your Carbonite backups from a smartphone, so it turns into mobile cloud storage, too!
Both programs come with one year of their respective services. There are no shipping costs as these are digital downloads.
(Expires: Unknown)