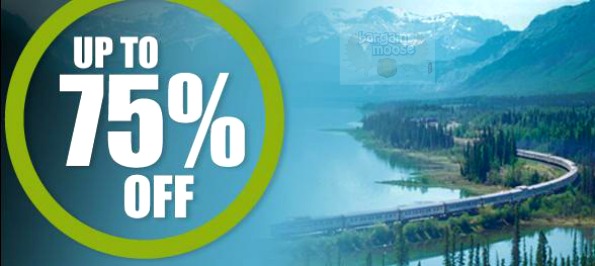 Via Rail Canada has some special offers on right now with fares up to 75% off the regular prices.
This offer is valid until 9th March 2012 for travel until 31st May 2012 in Sleeper Plus Class.
Tickets must be purchased at least one (1) day prior to departure, but no later than March 9, 2012. The number of sleepers is limited. The discount applies to Sleeper Plus class, discounted fare.
With this pass you will also get:
cozy, private sleepers with access to showers
a full-service dining experience
exclusive access to our Park car with 360-degree panoramic views, a café and lounge
an abundance of little extras, like bed turn-down service and personal shower kits
I haven't traveled by train for many years now but I remember as a child traveling by train with my parents and I loved the whole experience.  This is a great alternative for the winter weather traveler to driving and flying.  If the city departure or destination is not included in this deal, check out Via Rails Express deals with fares up to 75% off as well.  These fares are limited seats and change often so check back daily.
(Expiry: 9th March 2012)