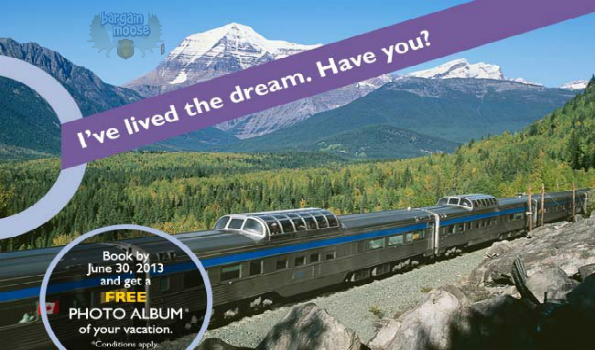 Put all your vacation memories in a PhotoInPress Photo Album Courtesy of Via Rail Canada!
I absolutely love traveling by train. It makes me very sad that train travel isn't as popular as it used to be in some parts of the country. If you're like me and love train travel but haven't been on one in a while or if you have never taken a trip on a train, then this summer is the time to do it! And if you book before 30th June 2013, you'll get a code for a FREE photo album from PhotoInPress.ca.
The offer is good for trips on "The Canadian" which runs from Toronto westward. I've never been on a train through the western provinces but some of the scenery is supposed to be amazing. You can use this photo album for any pictures but some of the pictures you'll get from the train will be spectacular. You could likely get enough awesome pictures just from your seat in the train to fill the photo album.
(Expires: 30th June 2013)