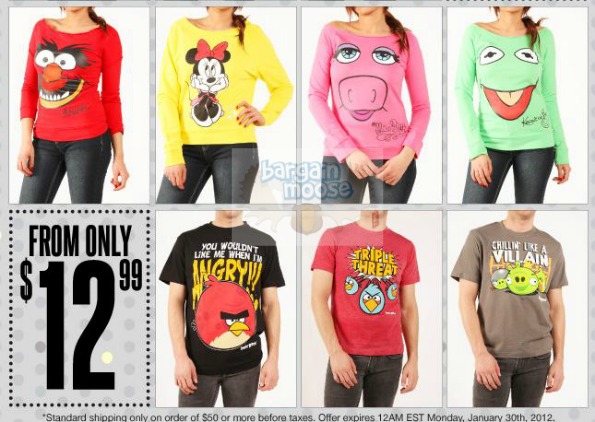 This week only Urban Planet is offering free shipping on all orders over $50.  They also have some great deals on graphic tees and licensed tees for men and women staring at just $12.99 until 30th January.
When I saw these licensed tees it brought me back to my childhood.  I love tees like this and I love that my kids know most of the characters as well.  You really are never too old to wear something fun like this.
I started looking at these sales shirts and found that some graphic tees that had fun logos on them were on special for less than the $12.99 advertised.  There are a few shirts that are on special for buy 2 for $15.99 in men's and 2 for $15 for the women. It's so hard to find Valentine's Day gifts for guys and some of these fun shirts would make a great gift.  I like this video game graphic tee and this live show graphic tee are both on sale for  deal of buy 2 for $15.99. Such a fun simple gift for that guy in your life.
For the girls I like this animal licensed tee for $19.99. There are also deals in the women's section on graphic tees, buy 2 for $15.  I also like this wild at heart tee and this monkey graphic tee both on sale for the buy 2 for $15.
These tees are such a fun gift to give for Valentines Day or even to buy for you.  Remember this week only if you spend $50 or more you will get free shipping with now coupon code necessary.
(Expiry: 30th January 2012)