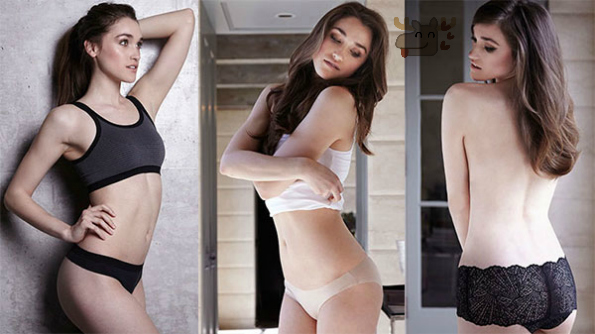 I think Kallone Intimi's sales have seriously won my heart. Right now, they have another sale on with fall basics start at just $5! This is one of those sales where you want to stock up on some basics like underwear, camisoles, bras, and more.
For men, there is a healthy selection of underwear on sale. These Wood - Trunks come in a selection of five different colours: purple, red, orange, green, and blue. Originally $25 each, they are now on sale for $5 each. The shorts come in sizes small through extra-large. There is also a selection of shorts in a different shape. These Wood - Boxer Briefs in Purpleare on sale from $25 down to $5.
For women, you can pick up a pair of OnGossamer - OG Mesh G-string panties on sale from $20 down to $5. However, I would splurge a bit and hit up the large selection of Knixwear panties.
I own some Knixwear panties and am supporting their current Kickstarter campaign that is well on its way to being the most funded fashion Kickstarter in history. I own a pair of the Knixwear - Knix High Rise Briefin nude. Originally $35 each, they are now on sale for $10. I am probably going to pick up a black pair as well. In fact, there is a huge selection of Knixwear underwear included in this sale that are all on sale for $10 each:
These are all made with performance fabrics that have built-in wicking, are absorbent, and have odour killing technology to keep you comfortable all day. This price is PHENOMINAL for these underwear.
I also have to mention the Nudy Patooty - The Essential 3-Quarter Sleeve Undershirt on sale from $65 down to $20. I own like four of these shirts because they are so incredibly awesome. The material is super soft and the underarms are reinforced to prevent your sweat from leaking through and staining the underarms of your dress shirts. I like to wear these shirts to bed as they are really nice to sleep in.
Last time we had a Kallone Intimi deal, Mooser Nicole Graham let us know how her purchase went:
I ordered a bathing suit from Kallone after you posted about it. It was the free suit, just pay shipping. They sent me one, but it was the wrong one. I messaged them that it was not correct, not expecting much as it was "free" after all. They replied right away with the shipping confirmation for the correct one and said I could keep the original one I got. So thank you for sharing the deal, and they have super customer service.
We love hearing feedback like this from our Moosers and I am delighted that it is so positive for this wonderful Canadian company.
Shipping is free on $50 or more. Orders under that will be charged a flat $15 fee.
(Expiry: Unknown)