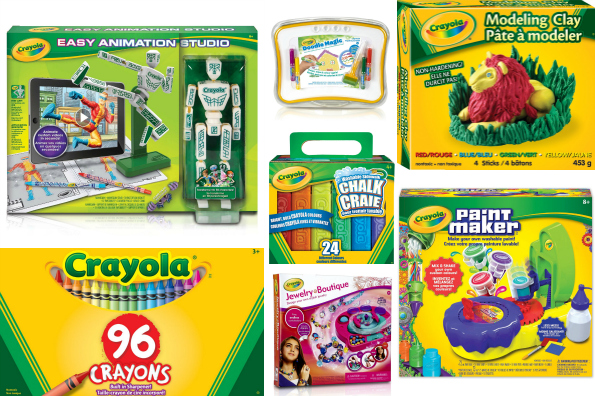 Amazon Canada has a special sale on Crayola right now with up to 75% off the original price on many awesome Crayola kits including markers, molding clay, and more.
This Crayola Modeling Clay, 4 colours is an amazing add-on product at a fantastic price. Originally $5.99, the clay is now on sale for $1.81. You get four sticks of non-drying clay. Colours include: red, blue, green, and yellow. Combine this with other deals like the Crayola Melt and Mold Factory on sale from $59.99 down to $15.18. The same factory currently retails for $25 @ Walmart.
I think the add-on deals may be my favourite as they would make awesome stocking stuffers. This Crayola Pip Squeaks Markers in Disguise Black Belt Bob was $5.99 and is now only $1.51. Of course, you will need $25 worth of stuff in your cart to get the add-ons shipped to you. Therefore, pick up a few big items too. The Crayola Paint Maker is also a great Crayola kit currently on sale from $26.99 down to $9.98. The same kit is $19.96 @ Walmart Canada so you know that you are getting a good deal here.
There are some super cool things I have not seen before. This Crayola Doodle Magic Lap Desk was $25.99 and is now $11.84. Instead of using paper, your child can doodle on this whiteboard with the included markets. The same toy is currently $20.77 @ Toys R Us Canada and $24.95 @ Chapters Indigo.
If your child needs new crayons, then pick up this Crayola 96 Crayons on sale from $10.99 down to just $5. There are other packs as well, but this would make a pretty great little gift for your young artist.
If your child is old enough to use technology effectively, then try something a little more advanced. This Crayola Easy Animation Studio is on sale from $24.99 down to $11.11. This is a super cool kit where you colour and position a mannequin and it interacts with the app to create your own awesome animations.
Right now, all of these toy deals are guaranteed to arrive before Christmas. Now is the time to pick up Crayola gifts as they are such a good deal. Whether your child is into the creation kits, drawing, molding clay, or other Crayola items - there are items here for everyone. Receive free shipping on orders of $25 or more before add-on products.
(Expiry: Unknown)