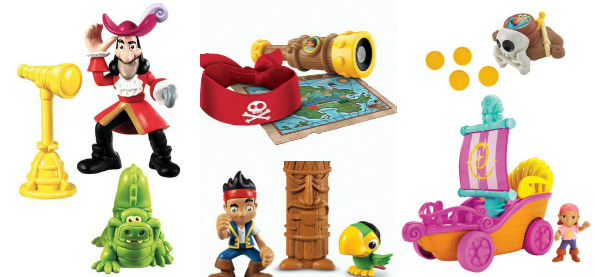 While the Walmart toy clearance sale is getting picked over pretty well, there are still a few gems in stock. I was checking out the ever popular Disney Jake & The Never Land Pirates theme and found many toys still available for up to 75% off. Receive free shipping to your local Canada Post location or a Grab & Go Outlet with no minimum.
The Doubloon Blaster is a hand-held disk launcher that comes with five plastic doubloon disks. In true pirate style, load the disks into the barrel off the launcher and pull the trigger to fire. The blaster is designed using parts and pieces found from the island. Originally $19.94, the blaster is now $5.
Next, pick up Jake's friend Izzy in the Fisher-Price - Disney Jake and the Never Land Pirates Sail 'N Roll set. This set comes with one Izzy figure and a rolling pink, orange, yellow, and teal ship. I like how the ship glides on wheels for out-of-water play. Originally $19.94, the ship with Izzy figure is now $5.
The Disney-Skull Bath Blast is a full feature bath toy. Use the squirter to aim water at the skull (that attaches to the side of the bath). Hit one eye to reveal Captain Hook and the other to reveal Jake. You can even hit the teeth to push them back or spin around to reveal gold pirate teeth. Originally $19.94, this toy is also now $5.
The Fisher-Price Jake and the Neverland Pirates: Jake's Talking Spyglass looks like the perfect gift for the child who wants to be Jack. The set comes with a bandanna, map, and spyglass. Originally $19.94, the set is on sale for $9.
There are two awesome figure packs to collect and they are currently in stock but have limited quantities right now. The Fisher-Price Jake and the Never Land Pirates: Jake & Skully Figure Pack is on sale from $9.97 down to $4. With the Fisher-Price Jake and the Never Land Pirates: Hook & Tick Tock Figure Pack, you can play heroes and villains as Jack battles Captain Hook. Originally $9.97, the Captain Hook figure pack is also on sale for $4.
The figure packs would make excellent stocking stuffers and the rest of these toys would be a lot of fun to stick under the tree.
(Expiry: Unknown)