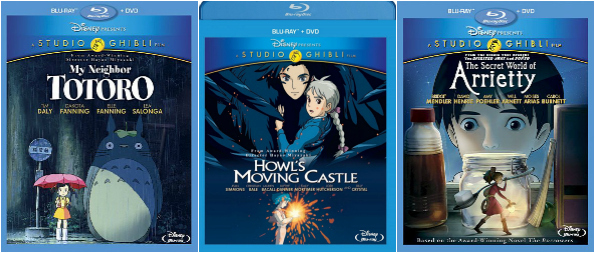 I am a huge fan of Studio Ghibli, they make some of the best movies in the world for kids that will still touch adults. Many of Studio Ghibli's films are my go-to comfort movies. Right now, Amazon Canada is offering up to 66% off Studio Ghibli films with prices from $15.99.
First, My Neighbor Totoro [Blu-ray + DVD]is an absolute must purchase movie. It is among my top three movies of all time and I have seen a fair number of movies. Originally $26,50, this movie is on sale for $15.99. Journey with two girls as they move to a new house several hours out of the city where their Mum is in the hospital. Enjoy their strong wills, amazing spirits, and more. Relationships blossom and grow in this movie.
I recommend Ponyo [Blu-ray + DVD] as well - it is a fantastic film and I own it. I only keep movies I will watch over and over again, so I cannot count the number of times I have seen this movie. Originally $26.50, it is now $15.99.
Howl's Moving Castle [Blu-ray + DVD]is currently on my to-watch list as I have a Studio Ghibli collection on DVD (imported) and this movie is on it. I think it is a most enchanting story on age, true beauty, and what love is. Originally $46.99, it is now $15.99. That is 66% off the original price and - trust me - Studio Ghibli movies tend to be quite expensive.
I have watched The Secret World of Arrietty [Blu-ray + DVD], which deals with the relationship between a sick boy and mini people - called borrowers. They are called that because they borrow everything they need from the large people. While this movie is not one of my favourites, it is well loved by others. Originally $26,50, this movie is on sale for $15.99.
The Tale of the Princess Kaguya / Le conte de la Princesse Kaguya [Blu-ray + DVD] (Bilingual) is the last release by Studio Ghibli. I have seen ads for this movie on my other disks and it looks really interesting. It deals with responsibility, honour, being different, sacrifice, and more. Originally $37.99, it is now on sale for $19.96.
Castle in the Sky [Blu-ray + DVD] is among my favourite Studio Ghibli movies but it also tends to be one of the more expensive. Originally $26.50, it is now on sale for $19.96 and this is the best price it has ever been according to the CamelCamelCamel price tracker.
There are other movies on sale as well, but these were the best prices as they are the lowest prices these movies have ever been (Exception: Tale of Princess Kaguya is within a few cents of the lowest price ever).
(Expiry: unknown)