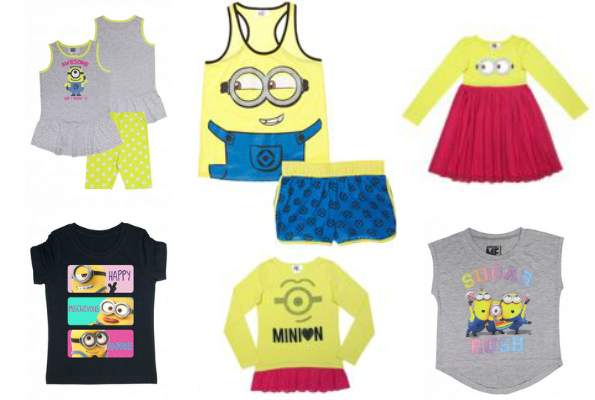 Does your little one want to wake up in their favourite Minion jammies and get into their favourite Minion outfit for the day? Then check out this sweet Minions themed pyjama and clothing sale at Sears Canada. Get up to 45% off your order and then combine those discounts with the $10 off $25 coupon to save even more. Use coupon code941612464 for an extra $10 off your cart. Sears Canada currently offers free shipping to over 1300 Sears Stores and Sears Outlet locations.
The steepest discount is on the MINIONS Hi-Low Dolman Tee on sale from $14.99 down to $7.94. This t-shirt is still available in four sizes, so grab it now. For a younger crowd, this MINIONS Onesie PJ is on clearance from $27.99 down to $16.79. The onesie currently comes in sizes two through seven. Perfect for winter, the Minions Onesie will keep your little one cosy and warm while she enjoys her favourite little yellow friends.
The MINIONS Boys Short is nearly sold out, with only two sizes left. This pair of black shorts stars yellow accents and outline of a one-eyed minion. Originally $16.99, these shorts are now only $9.94. Now, I took both the Onesie and the shorts and made up a cart so you can see how the sale prices plus the coupon code combine for huge savings: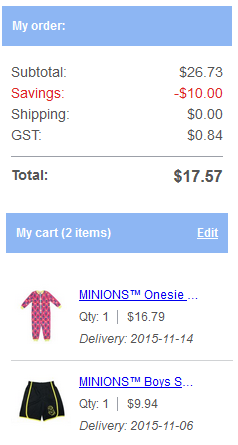 As you can see, both items come down to nearly the same price of just the onesie. This deal is AWESOME!
There are plenty of items to combine for this deal. I picked out this MINIONS Comic Strip Teeon sale from $12.97 down to $7.94. At 35% off, it is a great deal and has even greater potential when combined with other tops like the MINIONS Short Sleeve 'Love NYC' Tee and the MINIONS Short Sleeve 'Hello London' Tee that were $14.97 and are now $8.94 each.
Let us talk some favourites. This MINIONS Tank & Boxer PJ Set (blue) and MINIONS Tank and Boxer PJ Set (white) are my favourites but they are only available in little baby sizes now. Originally $29 - $30, they are now on sale for $17.40 to $17.99.
For older kids, the MINIONS Girls' 2-Piece Pyjama Setwill work perfectly. Originally $29.99, the set is now $17.99. I also really like this MINIONS Girls 2 Piece Bike Short Set on sale from $24.99 down to $14.94.
As Minions are so hot right now, sizes and quantities are limited. I recommend combining items to reach $25 in your cart and then applying the extra $10 off $25 coupon on top of that and getting your items shipped to your local store.
(Expiry: Varies)