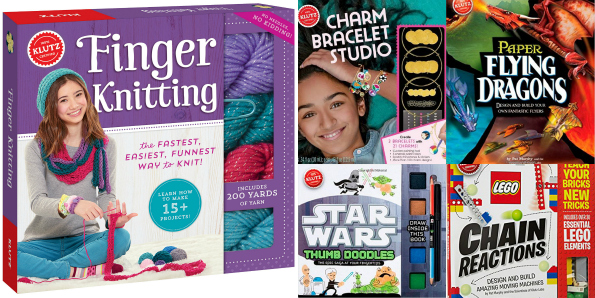 I have a combination of discounts you can take advantage of on the brand Lutz. Klutz makes activity kits for your children: drawing, knitting, colouring, constructing, building, and more. Right now they have select kits up to 37% off. Buy one kit and get your second kit 50% off. Then get free shipping with Chapters Canada' free shipping no minimum offer for a couple days only.
I know you want to see how this works. I picked out this Finger Knitting: The fastest, easiest, funnest way to knit! kit on sale from $26.99 down to $16.92 (37% off). I have always wanted to learn knitting but I don't know anyone who does it. This kit has everything you need including: 200 yards of yarn, a decorative button, iridescent beads, and simple step-by-step instructions.
For my second item, I picked up this Design & Dye With No-heat Batik set that was $26.99 but is also on sale for $16.92 (37% off). This kit allows your child to learn the art of dying clothes with no heat needed. They will learn to make designs and use dyes on the fabric swatches provided. Once they have perfected the art, they can then decorate their wardrobe! The BOGO free offer applies as 25% off (equal to BOGO 50% off) each item so each kit comes down to $12.69: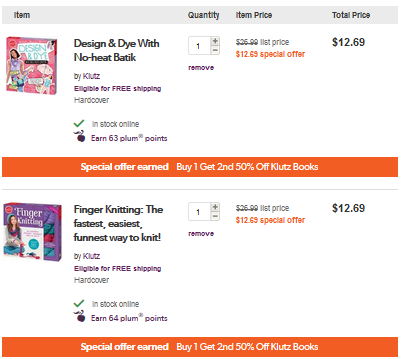 While these two kits would have just qualified for free shipping on a regular day, there are other kits that would not hit that $25 minimum together. For example:
The Paper Flying Dragons: Make 12 Dragons & Send Them Soaring would be a personal favourite of mine. Everyone knows how to make paper airplanes but making paper dragons is an art form. Originally $20.99, this kit is on sale for $14.39. This book becomes $10.81 after the additional discount when paired with the set below.
As a second kit, I could not resist something Star Wars themed. Come on... everyone loves Star Wars. This Draw Star Wars Rebels was $18.99 and is now $14.25. I also like this kit as it is super close in price to the Dragon kit, though that doesn't matter when Chapters Canada just takes the discount off both. This book becomes $10.70 after the additional discount when paired with the set above.
This deal works in pairs: 2, 4, 6, and more. The discount applies as I have shown and is pretty great considering it is on top of already discounted kits with free shipping. These kits make amazing Christmas gifts!
(Expiry: varies)