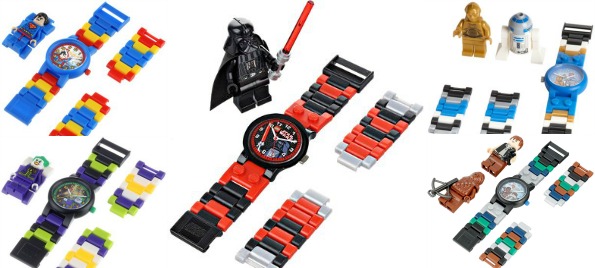 I think I just found the PERFECT Christmas gift for the kids! Amazon Canada is currently offering up to 35% off LEGO Kids' watch and mini-figure sets. Each watch comes with an extra band set and a mini-figure or mini-figure link to match. There are Legends of Chima, Star Wars, Ninjago, DC Universe, and more watch sets.

The least expensive watch set is the LEGO Kid's 9000423 Legends of Chima Worriz Mini Figure-Link Watch on sale from $27.99 down to $18.33. The watch features the character Worriz from the Legends of Chima series both on the watch face and the included mini-figure link. There are also two watch bands included. My favourite watch sets have to be the Star Wars themed sets with double (2) mini figures.
The LEGO Kids' 9001178 Star Wars C-3PO and R2-D2 Bundle Pack Watch With 2 Minifigures is on sale from $27.99 down to $21.49. You get the most adorable C-3PO and R2-D2 figures with the watch and two bands. I am sure the  LEGO Kids' 8020400 Star Wars Han Solo and Chewbacca Watch with 2 Mini Figures will also be a big hit. This set is on sale for $21.17.
Darth Vader may be the most popular character of all, and there are two different sets for him: a mini-figure link set and a regular mini-figure set. The LEGO Kids' 9004292 Star Wars Darth Vader Minifigure-Link Watch was $27.99 and is now $20.10. If you want the mini-figure to play with separately, then the LEGO Kids' 9002908 Star Wars Darth Vader Watch With Minifigure is what you want. Originally $27.99, it is now only $21.26.

The DC Universe is pretty big right now, and we have some superhero and super villain watches for your children. The LEGO Kid's 9001239 DC Universe Super Heroes The Joker Mini Figure-Link is on sale for $20.08 (from $27.99) and the LEGO Kids 9005619 DC Universe Super Heroes Superman Minifigure-Link Watch is two cents more at $20.10.
Quick note: some of these watches have actual mini-figures and others have mini-figure links. The 'links' fit onto the watch band but are not like usual LEGO mini-figures. The Mini-figures can be played with like regular LEGO men.
There are so many other watch sets to choose from that you are really spoiled for choice. All of these authentic LEGO watch sets with mini figures are sold by and ship from Amazon Canada so you will receive free shipping on $25 or more.

(Expiry: unknown)