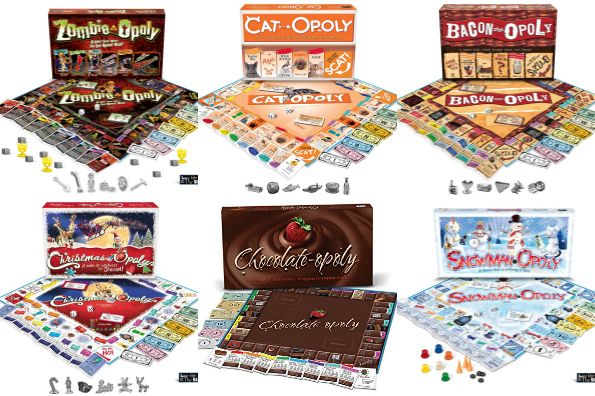 Monopoly is a well-loved game but did you know you can get awesome themed Monopoly games? The company Late for the Sky makes incredible '-opoly' games with different themes like horses, Christmas, dogs, cats, bacon, and more. These games are great Christmas gifts for friends and family and they are currently up to 32% off at Amazon Canada.
There are so many cool themes to choose from, that I have created a few categories below to make finding the game you want easier.
Christmas Themes
Christmas is coming and many people love to collect Christmas or winter themed games to play over the holidays.Christmas-opoly is an amazing holiday-themed game that is sure to get your children into the spirit of Christmas. Originally $27.99, the game is now $24.59. Snowman-Opoly is the perfect winter-themed monopoly game for you and your family to enjoy. Purchase different wickedly-cool snowmen and avoid a melt-off and refreezing fees! Originally $29.99, it is now on sale for $24.67.
Animal Themes
Horse-Opoly is a cool game where 'horsing-around' is totally appropriate! Buy up different breeds of horses, pay stud fees, pay for boarding, and more. Originally $33.59, the game is on sale for $22.87. If wild animals are more your thing, then pick up Wild Animalopoly on sale from $33.59 down to $24.81.
Most people I know own pets, whether it is a cat or a dog. Pick up Dog-Opoly on sale from $33.59 down to $24.73. Like the other games, you buy up your favourite breeds and avoid paying vet bills and more. Personally, I want Cat-Opoly but it isn't discounted as much. Originally $33.59, the game is now on sale for $30.27. Run into flees, scratch posts, dogs, stray cats, and more in this awesome cat-themed Monopoly game.
Other Cool Themes
There are so many cool Monopoly-themed games to choose from, it was hard to narrow down a list of my favourites. However, the following three are wicked cool. First, Chocolate-Opoly is like an absolute must buy for me. I will buy every single chocolate square I land on! Originally $33.59, the game is now $26.79. Next, bacon is to men as chocolate is to women. Pick up the Bacon-opoly board game on sale from $33.80 down to $23.32. There is even a square for chocolate-dipped bacon - yummy.
Lastly, this Zombie-Opoly Board Game should also be a huge hit with Monopoly fans. Originally $33.80, the game is on sale for $23.83.
Receive free shipping on all orders of $25 or more.
(Expiry: unknown)