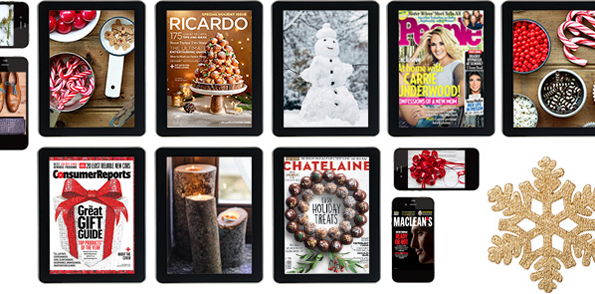 As Canada is so BIG, we are getting down to the wire on ordering gifts in time for Christmas. However, there are some gifts that appear instantaneously: gift cards and gift subscriptions. Texture by next Issue is offering up to $30 off gift subscriptions for that special someone. A magazine subscription service like this is perfect for nearly anyone with any interests. From technology to fashion to home decor - either the basic or the premium subscription plan will have you covered.
As I have mentioned before, there are two different plans. You can give either as a gift subscription depending on how many - and which - magazines you want your recipient to be able to read. The two plans are:
Unlimited Basic: This plan will give you access to 175 magazines including Consumer Reports, Chatelaine, Esquire, Men's Fitness, Vanity Fair, Vogue, O, and more. The regular price for this subscription is $9.99 per month. However, with the gift subscription you can get:
3 months - $28 - save $2
6 months - $55 - save $5
12 months $100 - save $20
Unlimited Premium: You get access to all the magazines in the basic, as well as sought after weekly publications like People, Hello! Canada, The New Yorker, Sports Illustrated, Maclean's, Time, Entertainment Weekly, and more. This subscription to 187 magazines usually costs $14.99 per month. However, with the gift subscription you can get:
3 months - $40 - save $5
6 months - $80 - save $10
12 months $150 - save $30
Of course, the best deals are on the largest plans.
It is easy to give a magazine subscription service as a gift this Christmas. You merely need to follow five steps. First, choose the plan you want to give and then select the duration. Next, pay for the plan via credit card (no Paypal available). You can then use their new feature to customize a card to print or email to the lucky recipient. Lastly, you will receive an email from Texture by Next Issue that contains the promo code to send to the recipient. Send the gift and you are all done.
This is like the simplest gift to get the person who has everything. It also makes a perfect gift for someone you might not know so well so you may not know their interests.
(Expiry: Unknown)