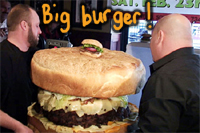 Oh man – the picture of the burger on the free printable coupon for A&W is really making me hungry! The Uncle Burger just looks so juicy! If you use the discount coupon in-store @ A&W Canada, you can score yourself an Uncle Burger for only $3.
Click here to print out your free coupon for cheaper Uncle Burgers from AW.ca! (Expires 3rd May 2009)
Oh, and as far as I know, you can put the coupon discount towards a meal deal as well. For example, if the above coupon takes $3.99 off the price of an Uncle Burger on its own, if the meal deal was $9.99, you'd get $3.99 off that price.
I love A&W's root beer too! It's so sweet and delicious. My mom does not agree however… while out shopping recently, I bought a little bottle of it to carry round with me. I offered her a sip, and when she tasted it, she just screwed up her face and made some comment involving the word horrible.
I think A&W burgers are the tastiest fast-food burgers, in my humble opinion - definitely better than Mickey D's and Burger King. Do you agree?
Hey – I just noticed fast food is an anagram of fats food. Heh.