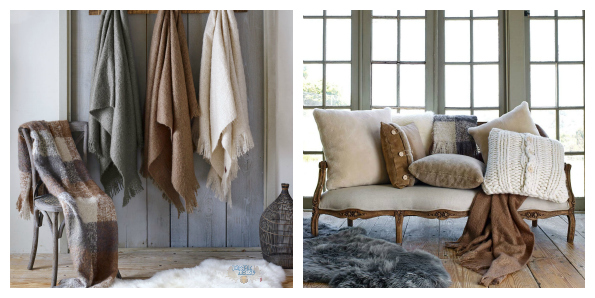 UGG Australia is selling this gorgeous Plain Melange Throw in chestnut plaid that was $170 and is now $85. Shipping is an incremental rate of 16% of your order total - thus express shipping will cost $13.60.
I tried to price compare the throw, but it was sold out of every place I looked including Nordstroms. UGG Australia is a premier and well sought-after brand for their footwear, but they also make beautiful home accessories and clothing.
The Plaid Melange throw is only available in chestnut plaid now. The throw measures 50" x 70" so you have a large nice throw to snuggle under while drinking hot chocolate with marshmallows. The throw is made out of 70% acrylic and 30% mohair. Mohair is an extremely soft fabric that will really make the throw enjoyable to use. While pure mohair is also gorgeous, it is not very durable so the acrylic blend is a better combination.
Because of the mohair, this is a dry-clean only blanket. However, I have successful hand-washed wool blankets and machine-washed them on delicate cycle. However, you should always hang dry them or lay them to dry on a rack if you are going to attempt hand washing. I know that wool tightens up when it has been washed and dried - I am not sure if it is the same for mohair.
I did not know that UGG had a home collection until I checked out their sale section a few days ago. They actually have some beautiful stuff. However, it can be pricey. I would love to buy one of these classic leather bound rugs that are 50% off. The Classic Leather Bound Rug 3x5 Feet is on sale from $800 down to $400. The larger Classic Leather Bound Rug 5x7 Feet is on sale from $1,145 down to $572.50. There is a third size but it is very expensive even on sale.
I really like the throw and think it is a great price for UGG Australia products. I could easily pay that much for a regular-priced throw at Chapters Indigo. The size is convenient for use on the couch, bed, or even in the car. I will be taking my wool blanket with me when I travel just in case I need a nap on the way.
(Expiry: Unknown)