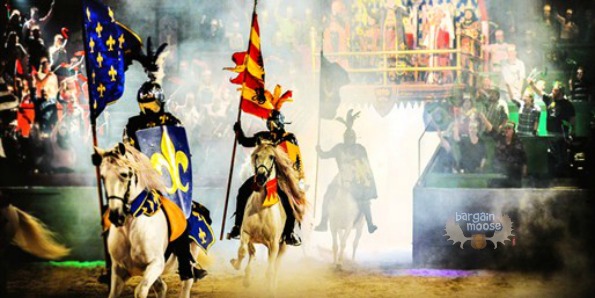 If you are going to be visiting Toronto this summer, one show you shouldn't miss is Medieval Times. I say this having never gone but having heard rave reviews from friends. With this hot deal, I'm considering buying tickets for my son's 8th birthday as he would absolutely love to go to this! Regularly $79 for one adult ticket, you can get the ticket (which includes your dinner) for only $40 at Travelzoo.
Children's tickets are also discounted, regularly $55.93 and now only $29.50. With these discounted tickets you get the show, along with a four-course dinner, which includes:
tomato bisque
garlic bread
oven-roasted chicken
sweet buttered corn
potato
pastry of the castle
two non-alcoholic drinks
If you want to treat yourself like royalty, there are special Royalty tickets that includes all of the above plus:
VIP seating
a commemorative program
knight's cheering banner
Behind the Scenes DVD for your party
Once you've bought your tickets through Travelzoo, you'll have to call to confirm your reservation. You can see a complete calendar with show dates and times before you purchase. It looks like there are lots of shows available even though 1,000 vouchers have been purchased from Travelzoo.
While perusing the Medieval Times site, I noticed that you can join the birthday fellowship to get a free admission on your birthday. This means I can buy one less ticket and take my son for free on his birthday and the total I'd pay for the rest of us would be $140 for all five of us to go and get dinner. I usually spend about $100 on dinner out with the kids and we don't get anything even close to as fun as this.
The tickets are good until September 7th. If you have guests coming to Toronto from out of town, this would be a fantastic way to treat them. The reviews on Travelzoo say that 98% of reviewers enjoyed Medieval Times and I'd say that is pretty glowing.
(Expiry: Unknown)