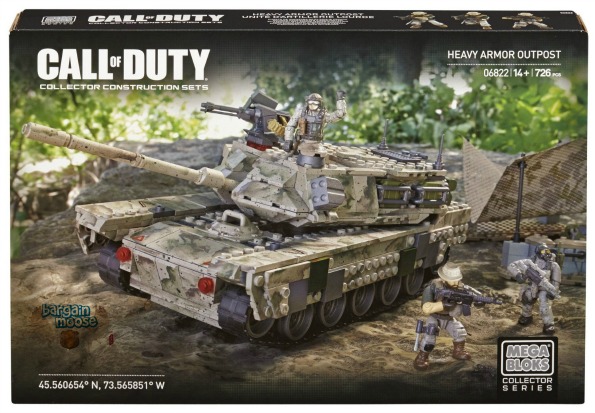 Toys R Us Canada has discounted many building block sets up to 30%. I found this cool Mega Bloks - Call of Duty - Heavy Armor Outpost on sale from $64.99 down to $45.47. Using the coupon code CINEPLEXHOLIDAY this set comes down to just $35.47. It also qualifies for free shipping on orders of $25 or more so this set will ship to your home for free.
I like deals where a combination of discounts and offers combined make for the best price possible. Here you have the original set on sale, plus free shipping as the set is over the minimum threshold. Add on the $10 off coupon code and the deal becomes really quite nice.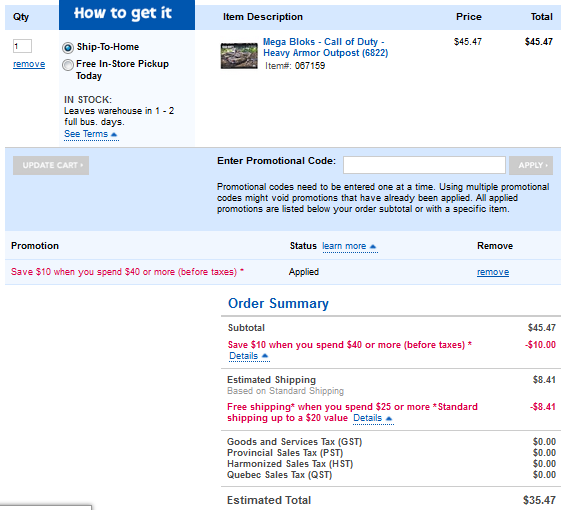 You can see how that turns out in my cart above. Overall, you save $29.52 on the toy and $8.41 on shipping.
I tried price comparing this set but nowhere in Canada is it still in stock. At Amazon Canada, marketplace sellers are asking $99+ for the set and Walmart Canada does not stock it. I turned to the USA to get some idea of this set's value:
$64.99 CAN @ MegaBloks.com
$50.89 US @ Amazon.com
$59.97 US @ Walmart.com
$50.99 US @ Target.com
As you can see, Toys R Us Canada easily beats the prices coming out of the USA as well. This Call of Duty set features a main battle tank that is heavily armoured and comes with a heavy machine gun and main cannon on a rotating turret. The tracks on the battle tank really spin as well. There is also a buildable outpost with a camouflage canopy that can attach to your tank. The set comes with three pose-able figures with interchangeable accessories and weapons. Overall, this is a pretty awesome set and well worth the money. As one reviewer says:
The manufacturing quality is the best I've ever seen from a company outside of the Grand Master = LEGO. There is so much detail to the set that it's more of a model than a toy, but don't think that means it's flimsy, it's a rugged piece! I also am a big fan of the new, super-articulated figures. It can be a bit tedious to put the figures together sometimes, but you can really get some realistic poses out of them.
Many reviewers have said that this set is one of the best that Mega Bloks has ever made. They love the new figures, they love the amazing detail on the tank, and now you can love the price.
(Expiry: Unknown)