Toys R Us has a sweet deal on the Imaginarium - Garden Activity Table that is exclusive to them. Originally $69.99, the table is now on sale for $32.47. You will receive a $10 shipping credit, which should cover most if not all the cost of shipping.
This table is a beauty! Standing 15" high, the Imaginarium Garden Activity Table has a bright, colourful, and playful garden theme. Your children can interact with the table through a variety of activities. Children will enjoy the spinning gears, spinning characters, busy beads, bead maze, pounding ball, shape sorter and Xylophone. The set includes a mallet so your child can pound away on their multipurpose toy.
As this toy is exclusives to Toys R Us, it is hard to price compare. I did find the same table listed on Amazon.com for $44.96 US. There is also one listed on eBay, but the shipping cost makes the deal not as good.
As for shipping, you receive a free $10 shipping credit on this table instead of the free shipping. However, I priced out shipping to Vancouver Island of all places and the $10 just covered the shipping cost. For most places in Canada, shipping will be free.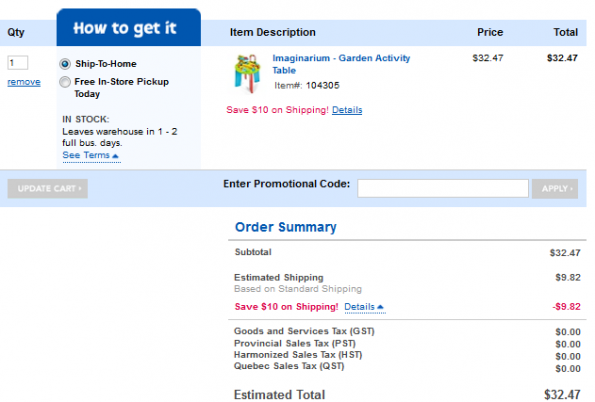 If you do have to spring for a bit of shipping money, you could always get this toy delivered to your local store instead. Either way, I think this toy is well worth the $33 being asked.
I read a few reviews of the activity table. Parents are thrilled as the table helps improve fine motor skills, strengthen muscles for standing, and it keeps their children entertained for hours. One parent positively gushed over the table saying:
We decided on the Busy Bee Activity table because it had so many different activities and is the perfect height for our little crawler who is learning to walk and pulling himself up to things. We brought it home and it was a hit right away. He LOVES it. He stands at it, holding on, and plays with the many activities. His favorite seems to be the ball and mallet because of the fun music it makes as it rolls down the xylophone. His hand-eye coordination has improved tremendously since he started playing with it almost two weeks ago
That is one thrilled parent. Other parents say that it is very easy to put together and it is made of sturdy wood, which feels better quality and will last longer. Overall, they could not be happier with the busy bee, garden activity table.
(Expiry: Unknown)