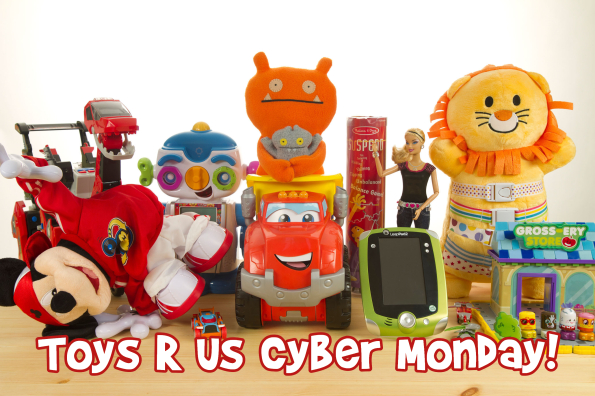 Okay Moosers! The Toys R Us Canada Cyber Monday is live as of midnight. So get your wallets ready, because here is yet another opportunity to save big on items for babies and kids before Christmas.
The Toys R Us Canada Cyber Monday offer is on from November 30th at 12:01 AM until November 30th at 11:59 PM. It is available both in stores and online, but there are even more great deals available online than in stores so choose wisely.
There are a lot of items on sale for half price during the Toys R Us Cyber Monday sale, much like their Black Friday sale. I was getting slightly worried about their Cyber Monday sale actually, because most of their trendy items looked to be out of stock online, but that doesn't seem to be the case now. Here is a look at some of the highlights, but be sure to explore the sale for yourself so you don't miss anything that suits your needs.
Half Price:
40% Off:
Select Interactive Minions
and more!
30% Off:
All Bauman Sleds and Toboggans
All Millside Wagons and accessories
and more!
Other Offers:
There are a few items that stand out to me in this Toys R Us Canada Cyber Monday Sale. I think my three year old would like the Mashin Max Game. I was very close to adding this item to my cart actually, which is saying a lot. This game was originally $19.99 but is now just $9.97.
If you're looking for games, then you may also like the Star Wars Loopin Chewie Game. It was $29.99, but now it can be yours for $14.97. This looks like another fun game for the kiddos to enjoy, and hey it is even Star Wars themed. Cool, right?
Toys R Us Canada also offers free shippingon most items when you spend $49 or more. The items that don't qualify for that offer seem to qualify for a $10 shipping discount instead, which will leave you paying very little for shipping and handling.
(Expiry: 30th November 2015)