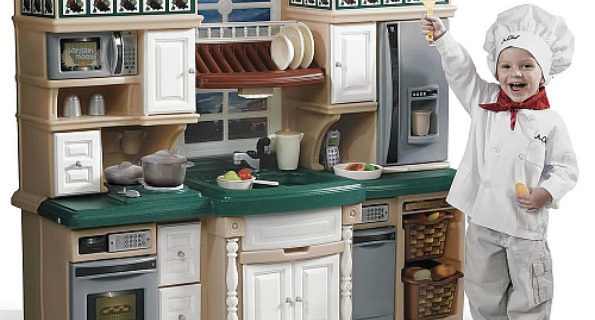 Get the Step2 Lifestyle deluxe kitchen for only $174.97, was $349.99.
There is one toy that every kid I know loves, and that is a play kitchen. Kids love cooking you plastic hamburgers and pretending to do the dishes. Too bad they don't really love doing the dishes. I also find that the play kitchen is good for any age. I bought mine years ago for my oldest son when he was one year old. He will still sometimes play with it, and he is now almost eight. Kids who come over to visit will sometimes play with it too. A play kitchen is honestly a good investment.
This one is totally deluxe. I know kids will play with even the cheapest of kitchens, but I love the look of a deluxe one in my home with all the extra features. It has six electronic features and an included 38-piece accessory set. Only the finest granite-looking counters, kick plates and wallpaper for your kin!
It does say that shipping could take six to eight weeks, so I would order immediately and not wait on this one. Shipping depends on where you live, but you'll get $20 off your shipping cost for this item.
(Expiry: Unknown)