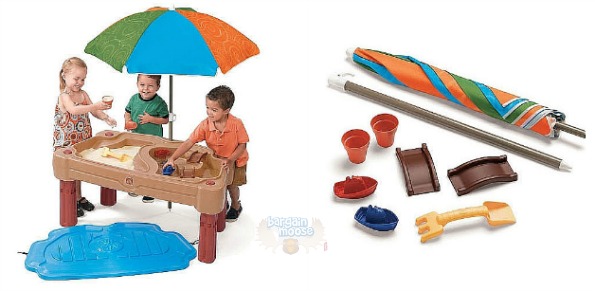 Toys R Us has a spectacular deal for some backyard fun this summer for the kids. For just a limited time only, you will be able to get a Step 2 Play Up adjustable sand and water table that was $99.99 for just $49.99.
The regular cost of this Step 2 table is $99.99 so with it being on sale for just $49.99, you are getting 50% off the regular price. It is recommended for ages 2 years old and up and it get a 4.4 star rating out of 5.
It comes with an umbrella to help with those hot summer days, and a variety of sand and water toys.  It also has a lid that will cover the entire table.  One of the great things about it is that you don't have to use sand and water for it  You can use one or the other or neither at all.  I know some day homes and preschools that use these tables as a sensory area and fill them with pasta or beans to play with inside.  I think this is a great alternative.
I have a similar water table for my kids in the backyard that I actually purchased on sale from Toys R Us Canada as well.  Mine is far inferior to this one though.  It was the same price but mine does not have a lid to it, or all the accessories that come with this one.  The lid is a very important feature in my mind because it does a few different things.  First of all, it covers the sand part so that neighborhood cats don't use your sand table as a litter-box.  The second thing it does it keeps the rain, bugs, leaves and other things out of the sand and water when you are not using it.  This is helpful because it lessens the amount of time you need to actually clean it out.  Lastly, it helps keep it all organized.  The simple use of a lid makes it look neater, and you can keep all of the accessories inside without losing them.
As for the cost of shipping, this product actually has a shipping deal on it as well. You will save $10 on the cost of shipping when you purchase it online right now. The cost of shipping will depend on where you live in Canada, but this will save you $10 no matter where you live.  That is a great bonus to this deal!
(Expiry: Unknown)