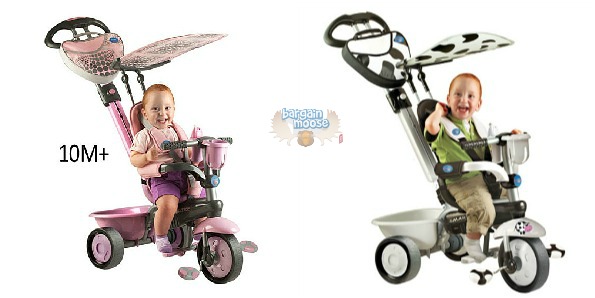 Toys R Us Canada has Smart Trikes on sale for at least $20 off, some for $40 off.
Walking the neighbourhood time is here, but if you have a little one who walks at a snail's pace, you'll want something for them to go a little faster. My little ones got sick of sitting in a boring stroller and we got a smart trike and they didn't mind being pushed around for hours. Who wouldn't really?
This zoo ladybug smart trike has telescopic, adjustable steering, a built-in clutch to change the ride control from parent to child and back, plus a safety harness for younger children and a seat belt for older children. Some cars do not have this many great features. Basically you can push your child while they are as young as 10 months, or they can pedal themselves until they are over three. A canopy protects them from the sun (such an amazing feature) and the washable seat cover has a kid-friendly design. Get it for $129.97, regularly $149.99.
The last trike was 3-in-1, well this one is 4-in-1. And you didn't think we could do better than the other one! Not only can your child sit on this trike and enjoy the ride, they can recline and relax and even sleep! The adjustable, detachable steering handle gives you control while they are young, but take it off for full control when they grown. A removable footrest is great for babies and the stroller rubber wheels means a smooth ride. Plus the added safety features means it won't roll over. Did I mention it is award-winning? Regularly $199.97, get it for $159.97.
Check out the other styles and designs in the same price range.
Get free shipping on orders over $100, up to $20.
(Expiry: 1st April 2013)