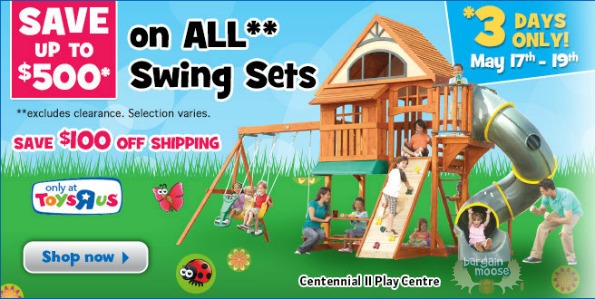 Toys R Us Canada has up to $500 off select swing sets, plus $100 off shipping.
If I were planning on buying a swing set this weekend, and trust me, I'd love to with these great deals, I'd definitely go for the shipping option. Having it shipped to your house is so much easier than finding a truck to lug all of the heavy pieces around. And right now, you'll save $100 off the cost of that shipping.
Some people are in the minimalist camp when it comes to play sets, thinking kids only need swings and a slide. Others think kids need the clubhouse, monkey bars and the works. Both are great options.
Check out this Claremont wooden play set, regularly $599, now only $499. With a 48" high play deck with clubhouse window, flower box and chalk-wall tarp, even that seems like enough. But it also has monkey bars, climbing ladder, wave slide and lower sandbox, plus swings!
On the other end of the spectrum is the Centennial II play centre, regularly $1799.99, now only $1299.97. With a 5' play deck with wooden roof, multi-level fort, chalet windows and trim, plus so many other extras, this set is the cream of the crop.
With the promotion, shipping would be only $50 for these items, regularly $150.
(Expiry: 19th May 2013)