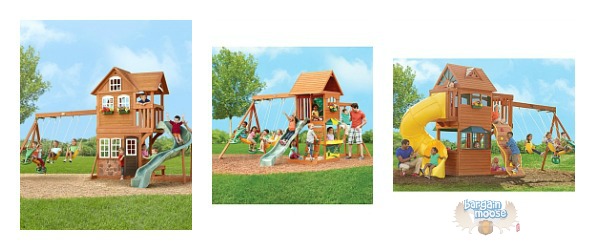 Spring is fast approaching and Toys R Us knows what is going to be on your mind is keeping your kids busy outside. If you are in the market for a climber/swing set for your little ones, now is the time to pre-order. Toys R Us is offering 20% off all outdoor climber/swing sets over $799.99 when you pre-order before February 28th.
Click here to shop @ Toys R Us Canada
Coupon Code: 2013SWINGSET20
Discount: 20% off
Expiry: 28th February 2013
I'm actually in the process of convincing my husband we need a new climber. Ours has served us well for the last five years, but now with older kids, they need more of a challenge than just a slide and two swings. Especially considering I have three kids and two swings means exactly what you think it means - fights. What's great about this Toys R Us deal is that it is on the newest playsets, not the clearance ones from last year.
I am so drooling over this Centennial II Play Centre. I love the multi-level fort with windows and trim. I can already imagine my kids sitting in there with friends for hours, plotting and pretending. The Twist 'N Ride tube slide looks so fun, along with the rock climbing wall, that is great for building upper body strength. If they are a little young for rock climbing, there is a monkey bar ladder is on the other side. The sandbox, picnic table and three swings will also keep kids busy for hours. The roof is cedar and the playset is made with premium lumber for durability and quality. This amazing set sells for $1,799.99, but get for $1,439.99.
A mid-ranged priced climber would be the Ashberry II Play Centre. With an activity-filled multi-level clubhouse with windows and roof, a twisty slide, shaded picnic area and a door (what kid does not love a door?), this set will provide hours and hours of fun. Swings, a rockwall, and a chalkboard round out more of the fun things to do with this climber. Regularly $1,099.99, get it for only $879.99.
The Sandy Cove Play Centre is also a really great deal. It includes an upper play deck with chalk wall, flower box and wooden roof. Underneath there is a sand and water play station that converts to a cafe table. Two swings and a rock climbing wall ensure hours of fun. Regularly $799.99, get it for only $639.99.
Shipping is dependent on what you order and can be steep, but with the savings you get from this deal, it almost cancels it out.
Check out the other Bargainmoose coupon codes for Toys R Us Canada.