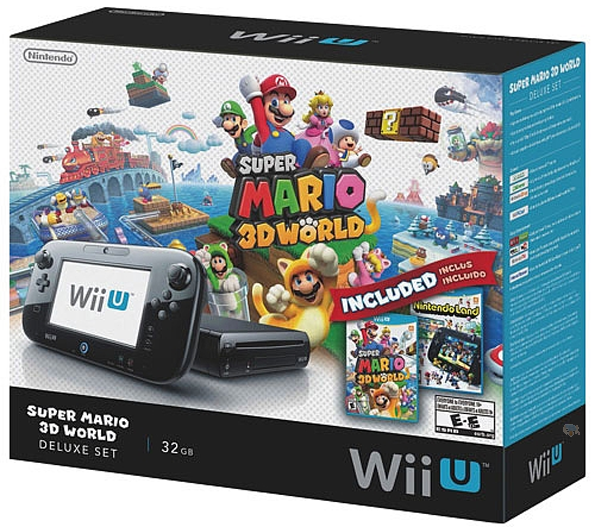 It's Friday night, Bargainmoosers - are you living it up? Whether you're sipping on a glass of red wine and enjoying a serene, peaceful night indoors, or if you're out having a night on the town with your friends, I hope you're having a fun-filled evening! Toys R Us is having an intriguing sale on their Nintendo Wii U Super Mario 3D World Deluxe Set for 2 hours only (from 10PM until 12AM), so I wanted to let you all know about it before it's gone! When you're shopping on the Toys R Us website tonight from 10PM until Midnight, you can snag this Nintendo Wii U system bundle for $249.97! That's $50.02 off the regular price of $299.99! Best of all, you'll also qualify for free shipping! So whether you're on your smart phone, your tablet, or your home computer, you should check out this deal before it expires!
These limited-time sales are always interesting. You're usually bound to find some interesting deals when they're only available for a few hours, and this Nintendo Wii U Super Mario 3D World Deluxe Set is definitely one of them! This next-gen Nintendo system comes with a 32GB Nintendo Wii U system, the stylus-friendly game pad, Nintendo Land (a fun carnival-like game that features plenty of familiar Nintendo characters, like Link, Pikmin, Donkey Kong, Yoshi, and much more), and Super Mario 3D Land (one of the greatest video games that I've ever played). This is a great Nintendo Wii U set for those that are looking to see some of the best offerings for this system!
Now that Super Smash Bros. U has been released, there's going to be a large demand for Wii U systems. This game has been anticipated for nearly 2 years, and now that it's out in time for the holiday season, many people are going to finally take the Nintendo plunge and purchase the Wii U system. There's plenty of other great games that you can check out for this system, too, like Mario Kart 8, The Legend Of Zelda: The Wind Waker HD, Pikmin 3, New Super Mario Bros. U, Hyrule Warriors, and so much more.
If you wanted to buy this Nintendo Wii U Super Mario 3D World Deluxe Set from Best Buy, it would cost you $299.99, and it's currently $299 at WalMart. Listed below is a brief review of this system from a satisfied Best Buy customer:
I play this console most out of all my systems. Nintendo games are stellar.
Get this deal before it's gone! This promotion expires at midnight. Have a good night, my fellow Bargainmoosers!
(Expiry: 21st November 2014)