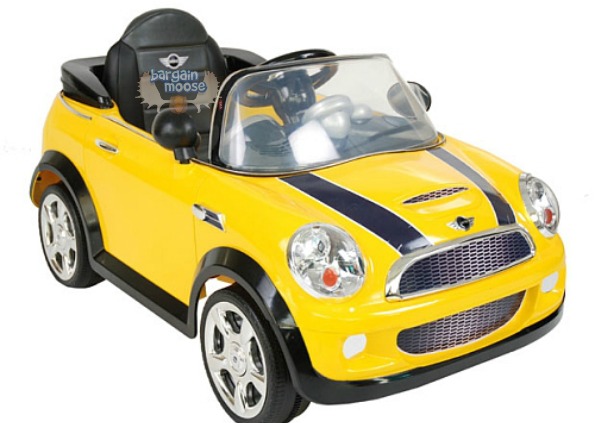 Save $40 on the Mini Cooper Ride-on in your choice of three colours, now only $149.97, was $189.99.
Imagine yourself as a little kid, running down the stairs on Christmas morning to see your very first car under the tree. What?! That would be amazing. You can do this for your child, by getting them the Mini Cooper ride-on. Many of the kids in my neighbourhood have ride-on cars and love them. Most have Jeeps, so this car would definitely stand out and be cool. I also think the price is totally affordable, as some of these cars can easily go over $500.
Choose from pink, red, and yellow.
This car has a rechargeable power system with working front lights, and horn and engine sounds. Your child can zoom around at 2.5 mph maximum in forward or reverse. If you are worried about safety, there is a seat belt.
The reviews say this car is great for a younger child as it is small, and that those who get it love it!
Shipping is $20 off for this item, and to me would be about $40, which is not too bad. It is also the only way you are going to get it, since it is only available online.
(Expiry: Unknown)