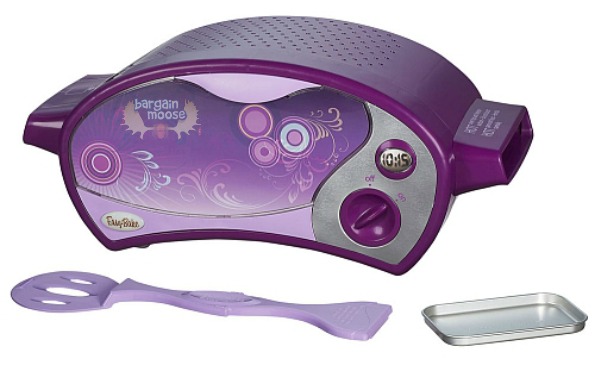 Christmasis coming your little chef/baker is going to want that coveted gift that I wanted as a child: the Easy-Bake oven! I have very fond memories of baking little cakes in my bedroom with my oven and your child will too and Toys R Us has a fantastic deal on right now. Get the Easy Bake ultimate oven in purple or black, regularly $62.99, now $31.47.
I don't think I need to tell you what an Easy Bake oven does as most of us under 50 probably had one or had a friend who did.Basically, you use the included mixes (you can buy more) to whip up cookies and other treats and then put them in your little oven to cook.
I was recently reading that they got rid of the light bulb they used to use to cook the stuff and now it has its own little heating system much like an oven or toaster. The Easy Bake oven has been around so much, this is the 11th time it has been redesigned.
I really had to laugh at the reviews saying that the cookies didn't turn out great. Honestly, you can't be Martha Stewart with a $30 toy. I remember mixing up my little cakes with a tiny bit of water and while they weren't bakery quality, I still enjoyed them and so did my friends.
But, there are also some good reviews on there, that give you a bit more of an idea of why this oven is a fantastic little gift for a boy or girl!
I bought this for my 6 year old daughter this Christmas and she enjoyed making the cookies that came with the oven. The instructions on the cookies indicates "1 tsp of water" and literally that's all it takes!
As Toys R Us offers free shipping on a $49 purchase, you might want to see what else is on for 50% off right now, as there are some really great things, including many Frozen dolls. I also know that kinetic sand is all the rage and there are quite a few of those on sale from $17.99, down to $8.99.
I looked around and found that you couldn't find another Easy Bake Ultimate oven for under $50 at Amazon, Sears and the like, so this is a solid deal
(Expiry: 4th October 2015)