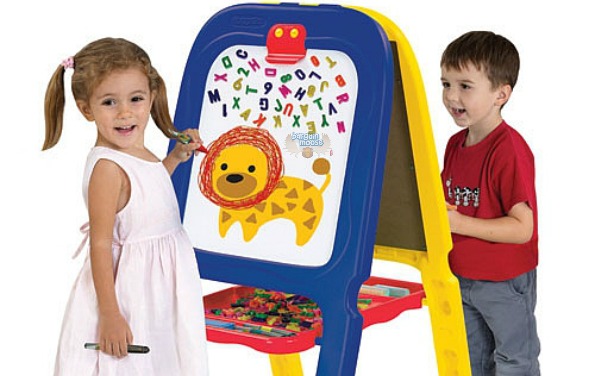 Got a toddler who loves to do art on your walls? Stop him or her now with this Crayola 3-in-1 easel from Toys R Us. Regularly $54.99, it is now $32.97. I do say that is free shipping, but it is actually $0.57 shipping. You'll get $10 off your shipping on this item, and the shipping was $10.57 for me, making my shipping a cool couple of quarters.
My kids actually had two easels when they were younger. One withstood so much over the years as a paint easel. The other I used for magnetic letters and numbers. This one easel can do double duty for both of those tasks. It has a chalkboard on one side and a white board on the other side. Your child can draw directly on the easel or clip up paper on either side to have the artwork to keep. Hint: get the paper from Ikea the next time you are there as it is super cheap!
This set also comes with the letters and numbers - 77 to be exact, plus an eraser. What's great about magnetic letters and numbers (that aren't piling up on your fridge) is that kids can learn their letters and numbers, names and easier words and they don't have to write them out. They can stick them up on the board, which honestly, kids love doing.
There are some mixed reviews on there, which I think some could be attributed to how it was put together, but also price. Well, with over $20 off, I think this easel is great value.
Our 2 year old budding artist of a granddaughter just adores this. Very easy to set up and move around. Also very durable as she tends to lean in the middle of the easel picking out her coloring books and crayons! It would have been nice to have included crayons,marking pens or chalk but we had some on hand regardless. Would recommend it highly!
I couldn't find this set anywhere else, but I did see that it was previously on sale but not this low, so this is the best price it has been. If you are looking for something a little more for older kids and are willing to spend a bit more money, there is a really great deal on the Imaginarium Master Studio easel. It was regularly $129.99, now $77.97. The shipping is a bit higher on this easel, but your savings with the price will cover that.
(Expiry: Unknown)