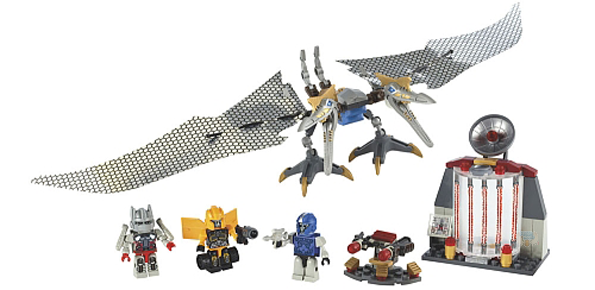 If you know any KRE-O fans that are kids or adults, this deal should get their attention! For a limited time, when you buy one KRE-O set at Toys R Us, you'll get a second one that's of equal or lesser value for free! That's right - it's a buy one get one free deal! Plus, if you spend at least $25, you'll get free shipping with your order! If not, shipping will cost roughly $8.45. These sets are selling out quickly, so check this deal out if you have the chance to do so!
Any Lego fans will immediately recognize KRE-O as a competitor to the popular building block sets. What makes KRE-O interesting is the well known licensees that you'll find for these sets. Well known brand names like G.I. Joe and Transformers have KRE-O sets available, which makes this building block brand an enticing one for both kids and adults.
Since many of these are selling out, some of the KRE-O sets that you can get with this deal (as of this writing) include this Transformers Age of Extinction - Cell Block Breakout Set ($19.99), a Transformers Scorn Street Chase Set ($16.99), and a Transformers Dino Bot Charge Set ($12.99). Remember, when you buy one you'll get another one for free! 
I think that KRE-O has some interesting sets available, but I've never really spent too much time looking at them. Perhaps it's due to marketing, but it just doesn't seem as top-of-the-line as LEGO products do, but there are some cool licensed KRE-O sets that you can pick up.
If you were to buy the Transformers Age of Extinction - Cell Block Breakout Set at WalMart, it would cost you $21.93. These Transformers KRE-O sets would also be great gifts for the holiday season!
Check out this deal before everything is out of stock! Happy hunting, Bargainmoosers!
(Expiry: Unknown)