Toys R Us Canada is selling their Barbie dolls on a special buy 1 get 1 free promotion!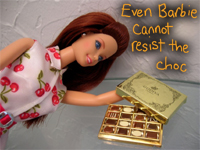 All the Barbie dolls on the website are shown at $14.99, with the buy 1 get 1 free promotion. I thought that if any of you have young girls, either kids, nieces, or grandkids - these would be perfect to stock up on a few for Christmas!
There are 11 models to choose from, including ultra cool bathing suit Barbie and Country Rock Barbie!!
And girls, did you know that Barbie is 50 years old? She ages well, doesn't she!
P.S. Remember to check out the birthday post about Toys R Us as they also have some great deals as part of the 10th celebration of Babies R Us Canada.
Thanks for the picture Migraine Chick!