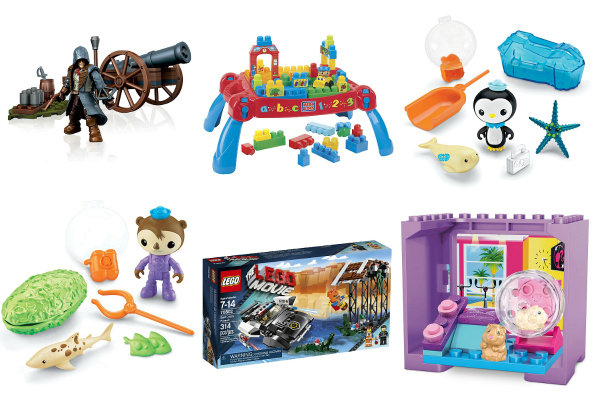 Toys R Us Canada has a BOGO 50% off sale on all their clearance toys. This combination of discounts is pretty sweet given that all the clearance toys are already on sale. I found popular toy brands including LEGO, Mega Boks, Play-Doh and more.
I think one of the best deals is on the Mega Bloks - Skylanders - Cut Throat Carnival (95486) on sale from $22.99 down to $9.98. That is over 50% off to begin with. I decided to pair it up with something if similar cost. The Mega Bloks - Hello Kitty Fun at the Fair (10956) is on sale from $21.99 down to $9.98. With the Skylanders set in my cart, the Hello Kitty set comes down to $4.99. Both sets are just under $15, which is less than the original price of just one of them.
I mentioned LEGO and I shall now deliver. The LEGO Movie - Bad Cop's Pursuit (70802) set is on sale from $39.99 down to $29.98. I paired it up with the gorgeous Mega Bloks - First Builders - Build'n Learn Table (8237)on sale from $54.99 down to $29.98. The second set came down to $14.99.
Toys R Us Canada stages the discounts properly when you add the toys in pairs. I added the first pair above and then the second pair and it took off the right discounts instead of just the two cheapest items: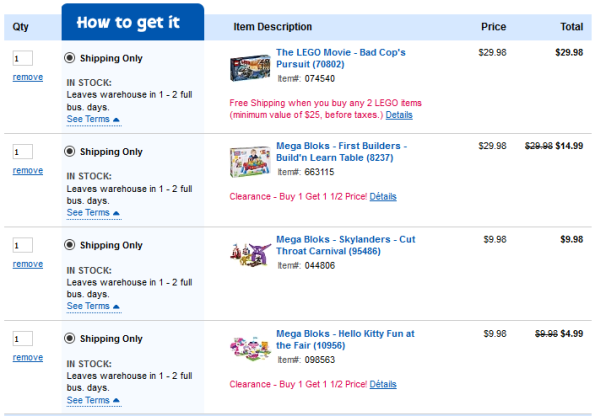 There you go - appropriate discounts! The shipping is a bit wonky with the items I chose, but with the free shipping discounts I would end up paying about $4 shipping for all that. That is pretty awesome.
I decided to pick out some sets that are near each other in theme and price for mixing and matching. Add them to your cart in pairs to get your second one an extra 50% off. The following sets were $6.99 and are now $3.98 each:
You can get two of these for a little under $6 or all four for just under $12. These sets were $10.99 and are now $4.98 each:
Buy them in sets to get the second one half off. Here are a couple Octonots sets I thought would do well together. Octonauts - Shellington and the Swell Shark was $16.99 and is now $9.98. Combine him withOctonauts - Peso and the Narwhal also on sale from $16.99 down to $9.98. The second one comes down to $4.99 so you get both for under $15.
(Expiry: Unknown)