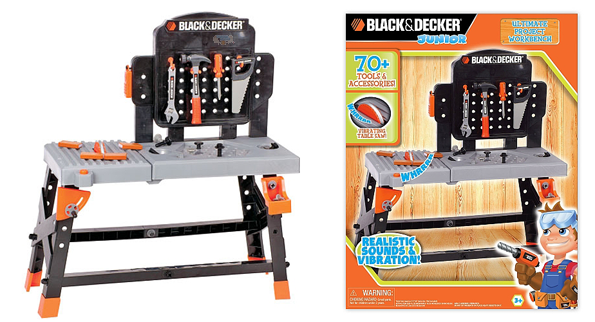 Hey there, Bargainmoosers! Toys R Us is having a sale on their Black & Decker Ultimate Project Workbench for kids, and it's a good one! Normally retailing for $119.99, you can now get this Black & Decker Ultimate Project Workbench for $59.97 - that's 50% off the regular price!
According to the Toys R Us website, the estimated shipping cost is $8.85, but after I filled in my shipping information (I'm based in Ontario), shipping ended up being free (it would have been $9.05, but they are currently having a promotion where you save $10 on shipping, so I wasn't required to pay for any shipping).
This is one cool looking play set! The Black & Decker Ultimate Project Workbench for kids comes with a bench, and a nice variety of play tools that also make realistic action sounds and vibrations.
Play sets are a great way for children to use their imagination. It provides them with an opportunity to act like a "grown up", while having fun along the way! I personally think these play sets are pretty wonderful, since it can keep many kids entertained for a long time, and when they have a friend over, they can both play together.
If you wanted to purchase this Black & Decker Ultimate Project Workbench from Amazon's American website, it would cost you $119.95 US. I tried to find some Canadian companies selling this set, but they're all currently out of stock at the moment.
My 4 year old got this for his birthday and loves it. It came with two projects and he is just super excited to work on it. He already had a Fisher Price power drill and it works with the B&D screws so it's great. The only thing this one doesn't have that the other B&D workshops have is the tray below to store things. We just use other bins and it's fine. My 2 year old is going to get one because he also loves to play with it. 
This play set would be a great gift for Christmas time! Happy hunting, Bargainmoosers!
(Expiry: Unknown)