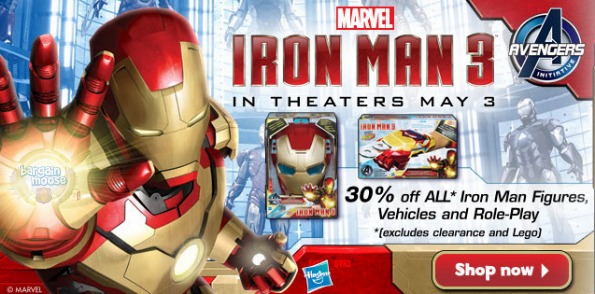 There are a lot of people, both old and young, that are excited about the new Iron Man 3 movie coming out, and Toys R Us Canada knows that.  They are offering 30% off all Iron Man items for a limited time only.
There are 47 different items to choose from, including role play and figurines.  What little boy wouldn't love to pretend he is Iron Man while wearing this Hero Mask that was $12.99 and is now just $9.07?  Another huge hit would have to be this Iron Man Triple Threat Repulsor Blast that was $22.99 and is now just $16.07. I have two boys and I know they would just love using it (and so would their Dad!).
The only items that this sale excludes are the LEGO and the clearance items.  Other than that, you will be saving 30% on all other Iron Man items.
In addition to saving 30% on all of these Iron Man items, when you buy three or more of them at a time, you will also get free shipping.  That's a great bonus!
(Expiry: Unknown)