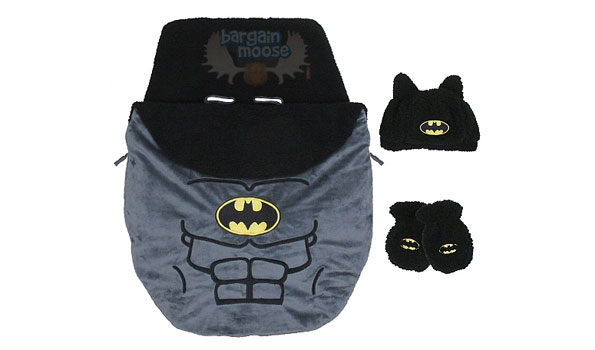 Fall is already upon us and it's getting colder and colder. If you have a baby, are expecting one or even know someone who is, then you're going to want to take advantage of this deal from Toys R Us as it's just too cute: $20 off the Batman car seat bunting bag with hat and mittens. Originally priced at $59.99, it's now just $39.97.
I featured the Batman bunting combo, but it's not the only one that you can save on, as these ones are all on sale for just $39.97 (reg. $59.99) as well:
If my little lamb was still small enough, I would definitely get her the kitty one as it's just too cute! See what I did there? ;)
Just like the Batman one, all of these also come with the bunting bag, hat and mittens. Toys R Us' description doesn't specify what material these are made from but judging from the picture, I would assume it must be polyester.
Even if you don't have a little munchkin of your own, this car seat bunting bag would be awesome to give as a gift to an expecting mommy as it's super cute!
These are actually the cheapest bunting bags that you can get at Toys R Us right now, with the only other one available being the Peg Perego cat seat bunting bag at $99.99. That is just an insane price to pay, especially since not only is the Batman one cheaper even when regularly-priced, but it's also super cute to boot!
Shipping is free if you spend over $49, but depending on the stock at your local store, you may be able to pick up this bunting combo for free. If you do want to try and reach the $49 free shipping minimum, then check out these car seat toys from just $4.99, with the cheapest being the Oball o-link. There is only a limit of 2 per customer on the Oball, so you can see just how popular it is!
(Expiry: October 8th 2015)