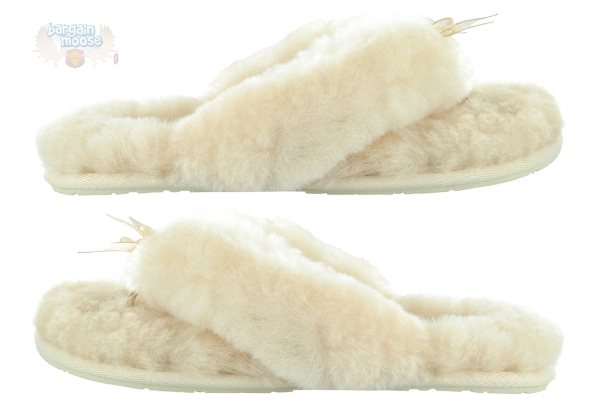 I am on the hunt for new flip-flops or slippers to wear around the house and out to the garbage bin. Currently, I am eying up this adorable UGG Fluff Flip-Flop in beige. Originally $88, these flip flops are now $43.98. UGG is a very popular brand and the grey version is an extra $20 on sale, thus I think the beige set will be pretty popular.
I love fluffy, fizzy, and warm slippers that just scream comfort and plush luxury and these flip-flops are the perfect companion for your feet. They can be worn around the house as a slipper or you can wear them outside as they are padded on the bottom with a rubber outsole. All gorgeous UGG shoes have an upper made of fluffy Shearling that is bound to pamper your feet.
I can barely resist buying them... they are so cute and look incredibly comfortable. Seriously: your feet are going to sink right into that Shearling and almost disappear! I have been looking for a new pair of 'around the house' sandals and these just might be the perfect pair. I know the Shearling is hard to keep clean, but I have a wool cleaner that does a fantastic job.
I price compared these sandals elsewhere. Hudson's Bay Canada sells them for $88. Funny enough, Chapters indigo Canada also stocks these sandals for $88. Lastly, ShoeMe Canada also has them priced at $88. Everywhere I found these flip-flops, they were full price.
In order to receive free shipping on $35 or more, you need to sign up for a free Shoe Lovers Reward Membership. Essentially, this is just creating an account at Town Shoes and signing up for their mailing list - simple. Then you will receive free shipping on these UGGs. Alternatively, you can have these UGGs shipped to your local store for free. As there are a couple options for free shipping, there is no need to try and reach the regular $70 minimum.
For all sale UGG footwear, click here. None of the other discounts are nearly as high. However, if you are in the market for UGG boots, sandals, moccasins, and more, then this sale might peak your interest.
(Expiry: Unknown)