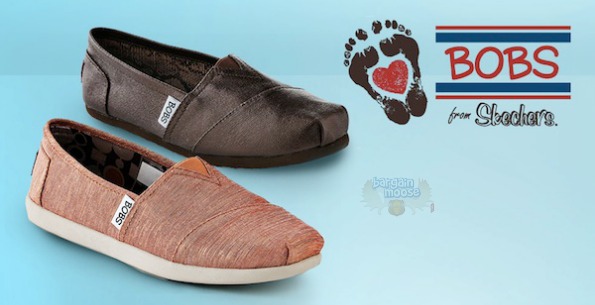 Purchase a pair of Bobs Heart Espadrilles or Bobs Heart Tag Alongs by Skechers for just $29.99, originally $55 at Town Shoes Canada.
I honestly have no idea how Sketchers ever got away with this line of shoes. They use the classic espadrille style for which Toms is famous. The name BOBS is a similar three letter simple masculine name followed by a 's' to mimic Toms. In addition, for every pair of shoes that is sold, "Skechers will give a pair of new shoes to a child in need." Seriously? While I am all for charity, this is such a blatant fan-boy attempt on Sketcher's part to mimic Toms. WOW.
Putting that aside, this is a good price for a pair of shoe. You are saving $25 and almost all sizes are still in stock. Bobs features a good size range: women's size five and up to size 11 including most half sizes. Bobs are not all mimicry either: the Heart Tag A Long features elastics near the back and front of the foot for a better fit and more flexibility. This is not a feature you will see in a pair of Toms shoes.
I have tried Toms shoes and they failed me miserably. The top of the espadrille cut in to the top of my foot so badly that after 15 minutes of wearing them the mark they left would take over an hour to disappear. They were painful and unpleasant. I have worn Sketchers before and found the stretch Skechers puts into their shoes a pleasant reprieve for my feet. I would be willing to try espadrille style shoes again, from Skechers, as they are a different company, thus the fit would be different.
Both shoes have canvas uppers and rubber soles for comfort. They feature a woven natural fiber mid-sole trim for that carefree summer look.
Town Shoes offers free shipping on orders of $70 or more. For orders under this minimum, shipping is just $8. You can also receive free shipping to your local store. There are also two other shipping offers. Shoe Lovers Reward Members receive free shipping on $35. If you are a Shoe Lovers Rewards VIP member, you will receive free shipping on any order with no minimum. You can learn about the programs here.
(Expiry: Unknown)